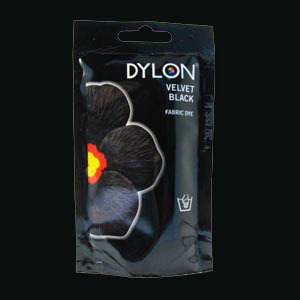 Velvet black hand dye.
A Dylon product, Ideal for small, delicate projects.
250g of salt is also required
1 pack dyes up to 250g of fabric
Suitable for cotton, linen & viscose. Lighter shades will be achieved on wool, silk, polyester/ cotton & polyester/ viscose mixes.
Not suitable for Pure polyester, acrylic, nylon & fabric with special finishes.
Wash separately for first few washes to remove any excess dye
Please note: colour mixing rules apply (e.g. blue on red gives purple).