PHOTO ETCHING



PHOTO ETCHING GALLERY


– WE CAN REPLICATE YOUR ARTWORK IN SHEET BRASS OR NICKEL SILVER

– THE ETCHING CAN GO ALL THE WAY THROUGH OR HALF WAY ON EITHER SIDE

– WE OFFER METAL THICKNESSES BETWEEN 0.15-0.9MM

– HALF ETCHING CAN BE COLOURED BLACK EFFICIENTLY BY OUR LASER

– FOR FURTHER DETAILS/QUOTE CONTACT IAIN 020

-

7264

-

1295 or ARTWORK@MODELSHOP.CO.UK

– DEPARTMENT OPEN 9AM - 6PM MONDAY - FRIDAY
THE PROCESS

The process involves making a transparency (phototool) of your artwork.
The phototool is used to imprint your artwork onto a special coating on both sides of the metal sheet.
The metal sheet is then etched equally from either side. This allows us to either etch all the way through (full etch) or just from one side (half etch).
An amazing degree of detail can be achieved through this process, so any fine architectural detailing can be accurately replicated.
Half etching is typically used to show architectural detailing on an elevation, for instance brickwork, fold lines for 3D construction or can be used to create sunken letters for name plates and awards.
IN-FILLING SERVICE — TRADITIONAL
Infilling is an additional service offered by our Acid Etching Department. Infilling is where we colour any half etched areas with ink. This is often required with name plates. Traditionally infilling has been done has been by hand using pen and ink.
IN-FILLING SERVICE — LASER IN-FILLING

We have developed a quicker, more cost effective way of in-filling.
Using a special coating that is applied to the metal surface, our laser can selectively burn the coat into the half etched areas, leaving a matte black finish on the metallic base.
As well infilling half etched areas, we can also accurately transfer artwork onto the surface of any metal surface.
The process leaves the artwork "printed" onto the metal in high visibility matte black.
ARTWORK PREPARATION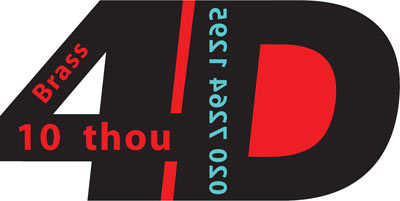 BLACK = metal
WHITE = through etch
RED = half etch into front of metal
CYAN = half etch into back of metal (text reversed)
Red (front etch) and cyan (back etch) must not touch or cross over each other.

We can accept hard copy artwork which is also subject to a conversion charge, the value of which will be confirmed when we quote for the work.
Email your artwork stating your desired completion date. We will reply to you to confirm if this is possible
ACCEPTABLE FILE FORMATS
Please Provide:
Artwork can be e-mailed to us or sent on disc in any windows format, ideally as an EPS, DWG, CDR, DFX or Ai file.
We do accept image files such as JPG, TIFF, GIF, BMP but you must make sure that these images are at a resolution that makes them crisp (i.e. 300dpi for JPG).
MAC users should save artwork as an EPS, AI, freehand or Photoshop files.
Wherever possible:
Embed fonts and convert to paths.
If you are using special fonts, include the font suitcase with your order.
It is useful to include notes with your artwork indicating any relevant information such as: final size, colour, whether you are repeating an image etc.
If you do not wish to prepare your artwork, we do offer an artwork preparation service at a cost of £48.00/hour.
E-mailed artwork will incur a cost of £16.00 for downloading & preparation.
Please include a 100mm reference line next to the artwork, a line in various formats can be downloaded here:

METAL & THICKNESS OPTIONS
We can etch in brass and nickel in the range of thicknesses below. A maximum etching area of 12''x 20" is possible, although we recommended an A3/A4 size for speed and economy.
| | |
| --- | --- |
| BRASS | 6,8,10,12,15,18,28 and 36 thou (0.125mm - 0.9mm) |
| NICKEL SILVER | 10 and 18 thou (0.25mm - 0.45mm) |
Finer detailing can be achieved with thinner thicknesses of metal. The chart below shows the minimum line width and minimum gaps between those lines that can be etched with the range of metal thicknesses:
| THICKNESS | HALF ETCH DEPTH | MIN. LINE WIDTH | MIN. GAP WIDTH |
| --- | --- | --- | --- |
| 6 thou (0.15mm) | 3 thou (0.08mm) | 7 thou (0.18mm) | 8 thou (0.20mm) |
| 8 thou (0.20mm) | 4 thou (0.10mm) | 10 thou (0.25mm) | 11 thou (0.28mm) |
| 10 thou (0.25mm) | 5 thou (0.13mm) | 12 thou (0.30mm) | 14 thou (0.35mm) |
| 12 thou (0.30mm) | 6 thou (0.15mm) | 14 thou (0.36mm) | 17 thou (0.42mm) |
| 15 thou (0.38mm) | 7 thou (0.19mm) | 18 thou (0.45mm) | 21 thou (0.53mm) |
| 18 thou (0.45mm) | 9 thou (0.23mm) | 22 thou (0.55mm) | 25 thou (0.64mm) |
| 28 thou (0.70mm) | 14 thou (0.36mm) | 34 thou (0.85mm) | 39 thou (0.98mm) |
| 36 thou (0.90mm) | 18 thou (0.45mm) | 43 thou (1.08mm) | 50 thou (1.26mm) |
E.g. For 10 thou brass the minimum line width is 12 thou (0.30mm) and the minimum spacing between those lines is 14 thou (0.35mm).
PRICE GUIDE
Please note you will be charged for the Phototool (one off charge) + the metal sheet charge.
ARTWORK PREPARATION

Artwork set up (20 mins)
£16.00
Computer drawn artwork p/hr
£48.00
Hand drawn artwork p/hr
£48.00
A5 phototool (filmwork)
£32.00
A4 phototool (filmwork)
£48.00
A3 phototool (filmwork)
£72.00
Standing film charge
£16.00
Outsize filmwork
£118.00
Additional exposures
£8.00

BRASS ETCHED SHEETS

A5

A4

A3

5 - 10 thou brass

£17.65

£33.50

£63.50

12 thou brass

£19.50

£37.00

£70.00

15 thou brass

£21.90

£41.50

£79.00

18 thou brass

£22.05

£47.50

£91.50

28 thou brass

£31.10

£59.00

£115.00

36 thou brass

£35.05

£66.50

£129.50

A5 NICKEL SILVER ETCHED SHEETS

6 thou brass

£79.00

10 thou brass

£21.90

£41.50

£79.00

18 thou brass

£34.00

£64.50

£125.00
All prices are ex VAT.
Please note you will be charged for the Phototool (one off charge) + the metal sheet charge.
It is advised that final artwork should be attempted only after discussion with us first.
METAL SURFACE QUALITY
The metal used for etching is delivered to us pre-coated ready to receive the image from your artwork. This means we cannot see the surface of the metal. The surface of the metal may differ from sheet to sheet (this is particularly the case with nickel silver) and so the surface of the finished work may not be consistent, even with different sheets produced at the same time. The differences occur during the manufacture of the metal and this is not a fault.The main variations which occur are the reflective quality and marks created by the brushes used during the metal manufacture.
We can do work again - this is chargeable - although, unfortunately, the result may be the same because we can't see the surface until the work is finished.
Scratches and gouges are not acceptable surface variations and you will not receive work affected by these. Please call us if you would like to discuss this potential issue.
For quotation for total cost of the etching please email, fax or post us a sketch of your proposed etchings giving quantities, sizes, material, thickness and any other information that is relevant.
FURTHER INFORMATION


Our guide to etching
(1.567Mb PDF)

020 7264 1295