ARTWORK SERVICE
– We can provide a full artwork service for all of our workshop processes
– If you prefer to prepare your own artwork please refer to the guide below
– Send to please include your desired completion date

ACCEPTABLE FILE FORMATS
Please Provide:
Artwork can be e-mailed to us or sent on disc in any windows format, ideally as an EPS, DWG, CDR, DFX or Ai file.
We do accept image files such as JPG, TIFF, GIF, BMP but you must make sure that these images are at a resolution that makes them crisp (i.e. 300dpi for JPG).
MAC users should save artwork as an EPS, AI, freehand or Photoshop files.
Please include a 100mm reference line next to the artwork (download at the bottom of the page).
Wherever possible:
Embed fonts and convert to paths.
If you are using special fonts, include the font suitcase with your order.
It is useful to include notes with your artwork indicating any relevant information such as: final size, colour, whether you are repeating an image etc.
PREPARING YOUR ARTWORK FOR PHOTO ETCHING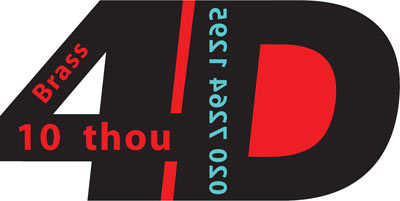 | | |
| --- | --- |
| Discipline | Colour |
| Metal | BLACK |
| Half etch into front of metal | RED |
| Half etch into back of metal (text reversed) | CYAN |
| Through etch | WHITE |
Red (front etch) and cyan (back etch) must not touch or cross over each other.
We can accept hard copy artwork which is also subject to a conversion charge, the value of which will be confirmed when we quote for the work.
Email your artwork stating your desired completion date.
We will reply to you to confirm if this is possible
PREPARING YOUR ARTWORK FOR DRY TRANSFERS
We will colour match your transfer to any pantone, metallic or other reference. Transfers can be produced with either a low or high tack adhesive on them depending on your requirements.
For single colour transfers provide the artwork in black with a colour reference.
For multi coloured transfers it is best to provide separated artwork with a reference for each colour. We can separate artwork for you at a cost of £50.00/hr.
Artwork produced by us on computer from your annotated sketches will be faxed, emailed or posted to you so you can confirm that it is correct before the transfers are made.
This service is typically used by product designers for logos, numbering and lettering, or by architectural model makers for detailing on buildings such as windows and doors.
We have also undertaked work for the hobby market, producing detailing for trains and military vehicles.
PREPARING YOUR ARTWORK FOR LASER CUTTING & ENGRAVING

| | | |
| --- | --- | --- |
| Discipline | Colour | RGB value |
| Engraving | BLACK | 0/0/0 |
| Scribing | RED | 255/0/0 |
| Inner cut | BLUE | 0/0/255 |
| Outline cut | GREEN | 0/255/0 |
Scribe and cut line weights need to be hairline or 0.076mm.
We accept artwork in DXF, DWG, CDR, AI, EPS, PDF, JPG formats.
We also accept artwork in good old pen and paper, however, hand drawn artwork will be subject to a fee for conversion to vectors.
Please include a 100mm reference line next to the artwork (download at the bottom of the page).
PREPARING YOUR ARTWORK FOR 3D PRINTING

​
We also offer an artwork service to adapt your existing 3D models or generate a new one from your designs. Contact us for further information and costing. We can accept files as OBJ and STL files
PREPARING YOUR ARTWORK FOR VINYL CUTTING
All artwork must be vector based paths, in any of the following formats, PDF, Illustrator, DWG, DXF and Coral draw, within dimensions of 580x1000mm.
FURTHER INFORMATION
020 7264 1295
100mm scale (81Kb ZIP)