SHORT COURSES INVOLVING MODEL MAKING
Please click here for our list of full time courses.
Whilst we endeavour to keep all this information up to date, it is advised that you check the establishments website for current details of each course. If you come across any errors, please contact
SHORT COURSES IN MODELMAKING
BASICS OF MOULDMAKING SEMINARS
ABOUT THE COURSE

This full day seminar will cover the basics of mould making and casting. Using slides, videos and demonstrations of various techniques and materials we aim to maximise the learning experience.
Dates:
Friday 3rd November 2017, 10.30am to 4.00pm
Seminar Location:
Unit 2 Aspen Way, Five Ways Business Centre, Feltham Middlesex TW13 7AQ
Cost:
£100.00 per person plus VAT (including light refreshments)
Contact martin@benam.co.uk to book your place (places are limited and will be filled on a first come first served basis)
MODELMAKING - AN INTRODUCTION
WHEN?
Check website
WHERE?
ARTS UNIVERSITY BOURNEMOUTH
Wallisdown
Poole
Dorset
BH12 5HH
ABOUT THE COURSE
An insight into the world of professional modelmaking, where you will discover the processes, materials and techniques used to create amazing models, puppets, sets and props.
Taught by professional modelmakers Gideon Bohannon and Sarah Bohannon, during the course you will have the opportunity to create a different model each week using a number of key skills used by the industry.
You will learn architectural modelmaking, sculpting, mould-making, armature building, casting, prop making, set building, and 3D printing. Working with resins, silicones, plastics and polymer clays the course encourages you to develop your own abilities, culminating in a personal project driven by you.
From props and sets to architectural models, sculpted figures to rubber faces you will be challenged to produce professional models working in a rewarding, fun and vibrant environment.
Seminar Cost: £299 per person.
Booking: website
MODELMAKING TECHNIQUES
COURSE LEADER
David Neat
The next course: please check website
ABOUT THE COURSE
This is a 5 day intensive course in Deptford in south east London.
It is assumed that those interested will already have the basics, but want to extend their repertoire of techniques and understanding of different materials. It is aimed at practitioners in a variety of disciplines.
David Neat is a professional modelmaker with 23 years experience in theatre, film, 3D design, architecture and exhibitions. He is a Motley graduate, a practicing sculptor, and Associate Lecturer at Wimbledon College of Art, also Visiting Lecturer at Rose Bruford College, Central School of Speech and Drama and RADA. His new book 'Model-making: Materials and Methods', an instructional guidebook through the materials and processes of modelmaking, was published in 2008.
His emphasis in these workshops is on accessible techniques of building, modelling, surfacing and finishing which are largely common to all the above disciplines, and relevant both to designers and makers. Each session will offer a wealth of information, supported by specially prepared examples and clarified through demonstrations and practical exercises. Areas covered include: -
constructing with wood, card and plastic
methods of casting
making model figures
techniques of soldering
simulating plants and trees
surface/texture treatments
paint finishes
Many materials are covered, while both traditional and new techniques are explored. Another emphasis is the reliance on simple tools rather than complicated or expensive machinery.
All materials for the practical exercises are included within the price. Participants must however bring their own essential equipment (such as scale-rule, scalpel, cutting mat and soldering iron). A complete list will be forwarded prior to the begin.
Each individual will also bring with them their own varied knowledge and talent, making this a valuable opportunity to discuss and compare personal experience. Whether you are a theatre designer wishing to make better, more convincing models; a stop-motion puppet animator searching for the right environment, or an interior designer aiming for the right presentation - this course will help you on the way.
The course costs £300.
MODELLING, MOULDMAKING & CASTING
COURSE LEADERS
David Neat and Astrid Baerndal
The next course: TBC
MakeBelieve Arts, Creek Rd SE8 3BT
ABOUT THE COURSE

A 5-day practical course designed for sculptors, model-makers, prop/puppet-makers or anyone wishing to model and reproduce small forms.
It can cater both for beginners with little prior experience or those with specific professional aims.
The next course date will appear here & on our Twitter account when announced.
Participants are asked to bring at least two small objects for casting with them, one fully 3D (for 2-part mouldmaking) and the other a simpler one-sided form. It may also be possible to accommodate those who have their own modelling/casting project in mind and wish to work partly independently (we need to discuss this far enough in advance).
We begin by preparing the 3D object for mouldmaking in silicone and the stages for this are followed over the first three days, culminating in making either hollow or solid castings in resin or casting plaster, according to personal choice or the nature of the form. During this time we also look at various methods of modelling using a soft clay, including the use of armatures, formers and texturing tools. Participants are guided through modelling an additional relief form in polymer clay suitable for hot-melt vinyl moulding, which takes place on the second day.
The third day also deals with methods of shaping rigid foams (such as styrofoam and polyurethanes) to achieve a variety of shapes, before going on to produce 1-piece moulds for the one-sided forms. Once these are ready the course turns to the various techniques of casting using different materials; including special-effects silicones (suitable for animation puppets), plaster, latex, polyurethane and polyester resins, Sculpey and Polymorph. Particular attention is given to the range of colourants, fillers and additives for plasters and resins which extend the possibilities even further.
Both simple 1-part and 3D 2-part mouldmaking, and 'skin', block or split moulds will be covered throughout the course. We will also be demonstrating alginate, metallic 'cold casting' and absorption casting using latex, clay slip or papier maché. A new addition to the course is the consideration of 'afterwork' and painting/finishing i.e. making repairs to plaster or resin casts and options for painting or patination.
Throughout the course participants are assisted in photographing their work to provide a complete record of making processes and results. Guidance will at the same time be given on photographing artwork/objects for portfolio presentation.
The course is full-time, Monday to Friday, starting at 10.30 and finishing at 5.30 each day. The cost per person is £400 and all practical materials (and an extensive, illustrated instructional CD) are included. Places are limited to 14 per course.
DAVID NEAT
More than 25 years experience as a sculptor, model-maker and specialist tutor/lecturer at many of the leading art/design colleges. His other short courses in model-making are much in demand. He is author of the book Model-making: Materials and Methods, published in 2008 and fast becoming a teaching standard.
ASTRID BAERNDAL
18 years experience as a visual artist (mixed media), designer and photographer, has been a visiting lecturer at Universität Lüneburg, Germany and course leader in her own studio. As photographer she has specialised in photographing small objects and models, and is photographer for the book Model-making: Materials and Methods
CITY LIT
City Lit is London's largest college for adult students and located close to Covent Garden.
City Lit offers short courses in Model making, Interior design and decoration, decorative surface treatment, garden design and computer aided design (Sketch up Pro, Vectorworks).
DESIGN AND MODEL MAKING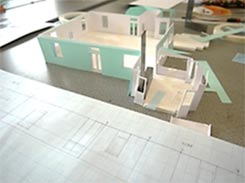 An introduction to three dimensional model making, using a variety of simple materials and techniques to achieve effective 3D models, suitable for architecture, interior design or photographic/ art projects. This course is for beginners, plus projects for advanced students.
You will be taught by experienced modelmakers, working with London's leading architectural and design practices.
TWO DAY UPHOLSTERY COURSES
Dates: various
Run by: J A Milton
Our upholstery courses are designed both for beginners and the more advanced. Classes are small with 4-6 students and most courses have a tutor plus an assistant to ensure everyone gets time with the tutor but work and learn at their own speed.
The classes take place in our workshop in Ellesmere, Shropshire from around 9:15am until 5pm including a cold buffet lunch and refreshments throughout the day. If you would like to come to us for a course we can recommend some of our local accommodation.