NEW BLADES
It's with great regret that we have had to cancel this year's New Blades Show.
We like to thank the Holborn Studios for their understanding and all our amazing sponsors who had pledged their support for the show.
We will look into the possibility of showcasing this years graduates online.
NEW BLADES '19
Music: bensound.com
It was a very busy show, with over 120 companies signing in.
A massive thank you to all our sponsors, all stepped up to the mark so we were able to deliver a considerably lower cost to the exhibitors.
Special mention has to go to Foster + Partners who not only made a major contribution, but also got their design team to overhaul the show brochure & offer their printing services.
Rogers Stirk Harbour + Partners and Amalgam Modelmaking Ltd were kind enough to sponsor the bar.
Other major contributors were Leviathan Workshop and Make Architects.
We had 8 Universities/Colleges* and 120 model makers from all over the UK & Ireland bringing their exceptional work to the Holborn Studios.
The quality was exceptional this year. All industry award sponsors had a very difficult time choosing their winners.
Arts University Bournemouth were the big winners picking up 9 awards including Ollie Smither winning 'Best of Show' for his model of a VW Beetle with surfboards.
Fen Lindberg, from the University of Hertfordshire, won the 'Best of Show runner up' award for her magnificent giraffe.
First time exhibiters, Wimbledon College of Arts, did incredibly well, picking up 2 awards on their New Blades debut.
Special mention has to go to Vicki O'connell who won the 'The Richard Gregory SFX Award' for her articulated White-backed vulture.
Richard Gregory, a master of TV & film effects, passed away unexpectedly earlier this year. Richards credits include James Bond's Quantum of Solace & Skyfall, The Dark Knight, Walking with Dinosaurs and numerous Gerry Anderson TV projects.
Richard was a close friend and colleague of award sponsor, Jamie Anderson (Anderson Entertainment) who wasn't available for the ceremony, but spent a good few hours choosing his award winners.
Lastly, we would like to thank the Holborn Studios for being excellent hosts. This creative space is under pressure from developers. We wish them all the best & hope they can secure their future.
All models from New Blades '19 can be found on our Flickr gallery.
*Universities/Colleges represented: Arts University Bournemouth (Modelmaking), University of Hertfordshire (Model Design courses), University of Bolton (Special Effects for Film & Television), City of Glasgow College (Model Making for the Creative Industries), Coleg y Cymoedd (TV & Film: prop making), Nottingham Trent University (Architecture), Dún Laoghaire Institute of Art, Design & Technology (3D Design, Model-making + Digital Art) and Wimbledon College of Arts (Technical Arts and Special Effects).
BEST OF SHOW TROPHY
Created by the
4D modelshop workshop team
PROCESSES USED
Laser - Etching - Casting
BEST OF SHOW
Ollie Smither
(Arts University Bournemouth)
SPONSORED BY
4D modelshop & Fox Silver
BEST OF SHOW RUNNER UP
Fen Lindberg
(University of Hertfordshire)
SPONSORED BY
4D modelshop & Fox Silver
BEST ARCHITECTURAL MODEL
Finlay Whitfield
(Arts University Bournemouth)
SPONSORED BY
Foster + Partners
BEST USE OF CREATIVE MATERIALS
Sarah Akbar
(Wimbledon College of Arts UAL)
SPONSORED BY
4D modelshop
BEST FINISH ON A MODEL
Ollie Smither
(Arts University Bournemouth)
SPONSORED BY
Atom
BEST HERITAGE MODEL
Jess Jordan
(Arts University Bournemouth)
SPONSORED BY
Paragon Creative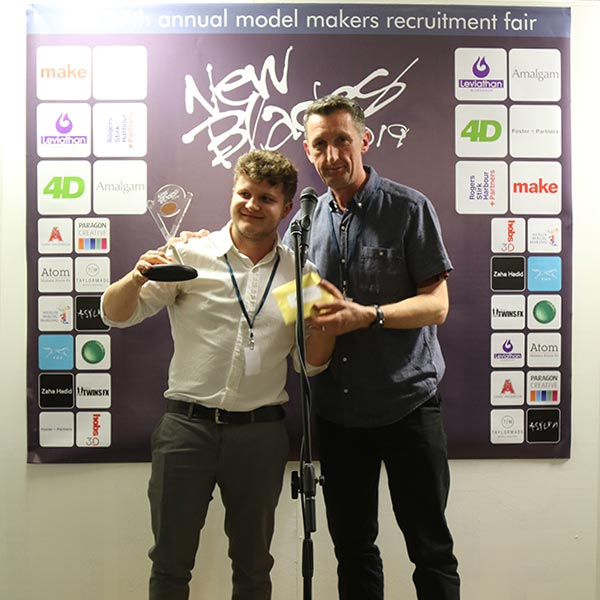 GERRY ANDERSON FILM MINIATURE AWARD
Albie Saunders
(University of Hertfordshire)
SPONSORED BY
Anderson Entertainment
BEST USE OF NEW TECHNOLOGY
Vanessa Pearson
(Arts University Bournemouth)
SPONSORED BY
Hobs 3D
ASYLUM CREATIVE PRIZE
Jasper Cousins
(Arts University Bournemouth)
SPONSORED BY
Asylum Models
BEST FIGURATIVE CONCEPT
Rebecca Erratt
(Wimbledon College of Arts UAL)
SPONSORED BY
Merlin Magic Making
BEST LATERAL THINKING
Joda Callan
(University of Hertfordshire)
SPONSORED BY
Machine Shop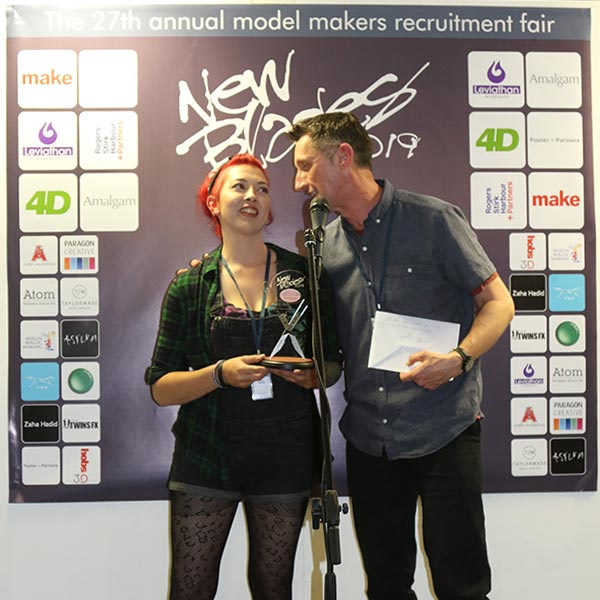 THE TWINS FX WOW FACTOR AWARD
Patricia Bielby
(University of Bolton)
SPONSORED BY
The Twins FX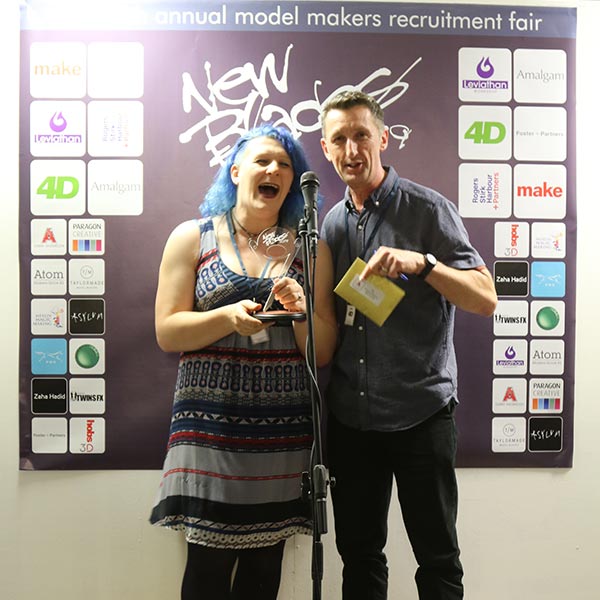 THE RICHARD GREGORY SFX AWARD
Vicki O'connell
(Arts University Bournemouth)
SPONSORED BY
Anderson Entertainment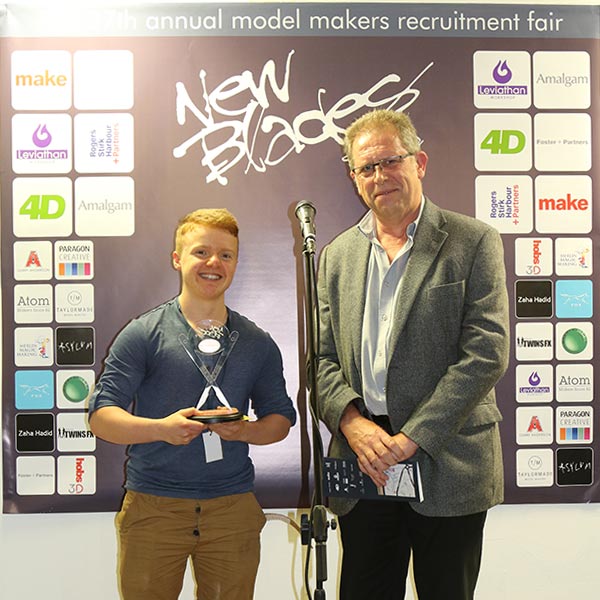 MOST AMBITIOUS
Nate Sanger-Davies
(Arts University Bournemouth)
SPONSORED BY
Amalgam Modelmaking Ltd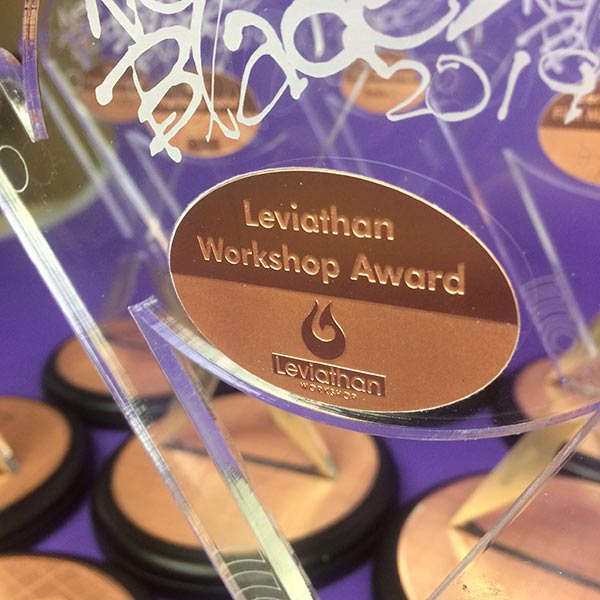 LEVIATHAN WORKSHOP AWARD
Nate Sanger-Davies
(Arts University Bournemouth)
SPONSORED BY
Leviathan Workshop
FURTHER INFORMATION
Follow progress of the show on Twitter