ADDRESS
4D modelshop Ltd
The Arches
120 Leman Street
London E1 8EU
020 7264 1288
SHOP HOURS
Monday - Saturday 9am - 5.45pm
VIDEO SHOP ASSISTANT
Get face to face product advice via an appointment system​
WORKSHOP SERVICES HOURS
Monday to Friday 9.00am - 5.45pm
CONTACT NUMBERS
General enquiries/mail order - 020 7264 1288
Etching - Iain 020 7264 1295
Transfers - Matthew 020 7264 1295
Laser - Mo 020 7264 1295
Vinyl cutting - Mo 020 7264 1295
Casting - Ben 020 7264 1295
Bespoke trees/Scenics - Iain 020 7264 1294
EMAIL
General enquiries - info@modelshop.co.uk
Etching, Transfers, Laser, Vinyl cutting & Casting - artwork@modelshop.co.uk
Bespoke trees/Scenics - workshop@modelshop.co.uk
FEEDBACK
If you have any comments regarding our website , products or services, please send them to feedback@modelshop.co.uk
SOCIAL MEDIA
You can find us on Twitter, Facebook & Instagram (links at the bottom of this page).
BIKE
We have a rack outside the shop to secure your bike. London bike scheme docks on Leman Street and Mansell Street.
UNDERGROUND
Easy walking distance of several tube lines including East London Line (Whitechapel, Shadwell), Circle (Tower Hill, Aldgate), District (Tower Hill, Aldgate East), Metropolitan (Aldgate) and Hammersmith & City (Aldgate East).
BUS
Stopping on Mansell Street: 15, 25, 42, 78, 100
Stopping on Braham Street: 205
Stopping at Tower Gateway DLR: RV1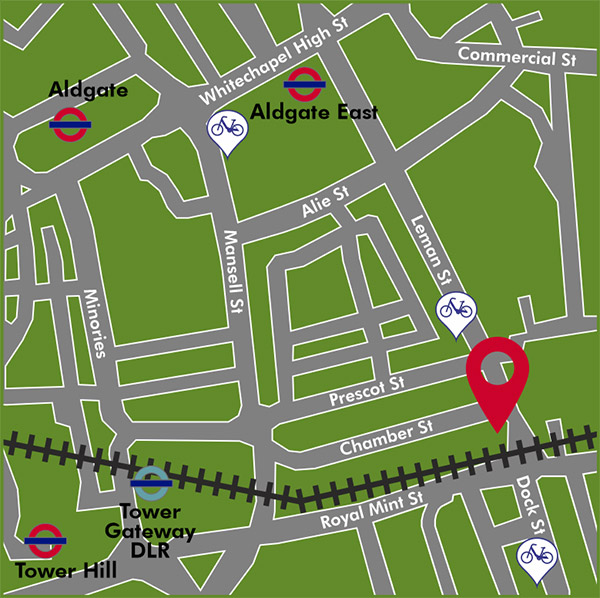 Download location map (1.5Mb PDF)
CAR
From the north: take the A1, follow all the way to the A501 (City Road), then the A1202 (Commercial Road) onto Leman Street (continuation of A1202).

From the M25: take Junction 16, follow the signs for the A40 (West Way) all the way to the A501 (City Road), then the A1202 (Commercial Road), then onto Leman Street.
Please note that we are just outside the congestion Zone.
TRAIN
From Waterloo or Paddington take the tube to either Aldgate or Aldgate East. From London Bridge catch the RV1 bus and walk from either Tower Bridge or Tower Gateway.
DLR
Easy walking distance from Tower Gateway.

We are 0.7 mile from Shadwell stations (DLR and London Overground East London line), if you wish to avoid Zone 1 travel charges.
PARKING
On Royal Mint Street or on Leman Street above Prescott Street.