MODEL GALLERY
Here is a selection of completed models made by our customers using our many of our products.
If you have a model made from our products you'd like shown here, please send to and you will receive a credit and web link.
SIREN 'JIBARO'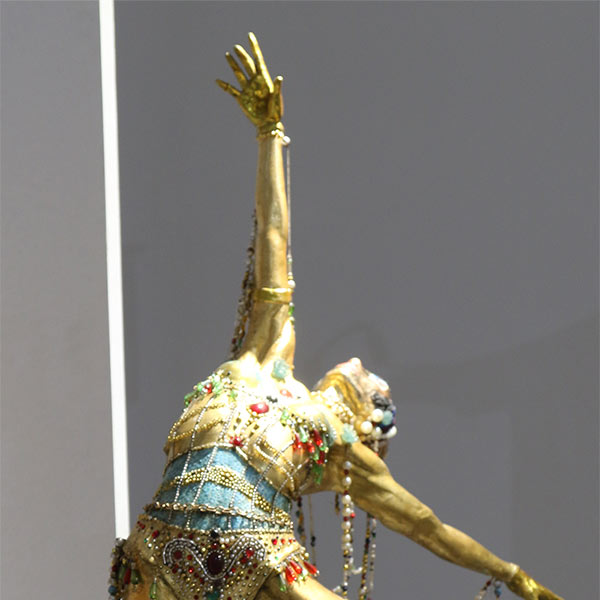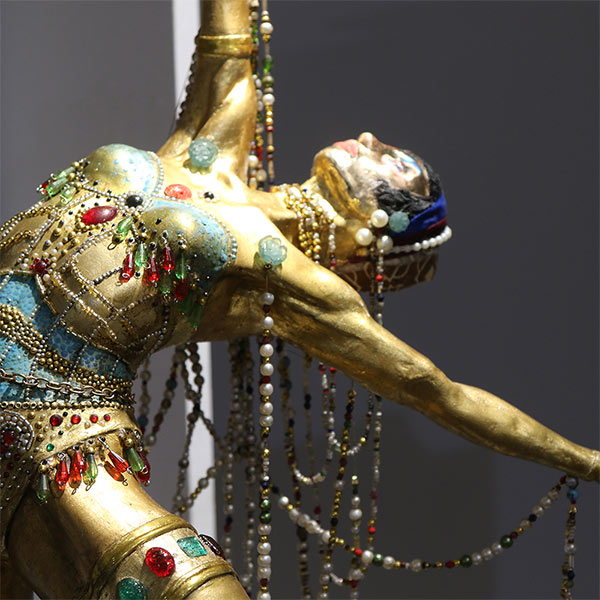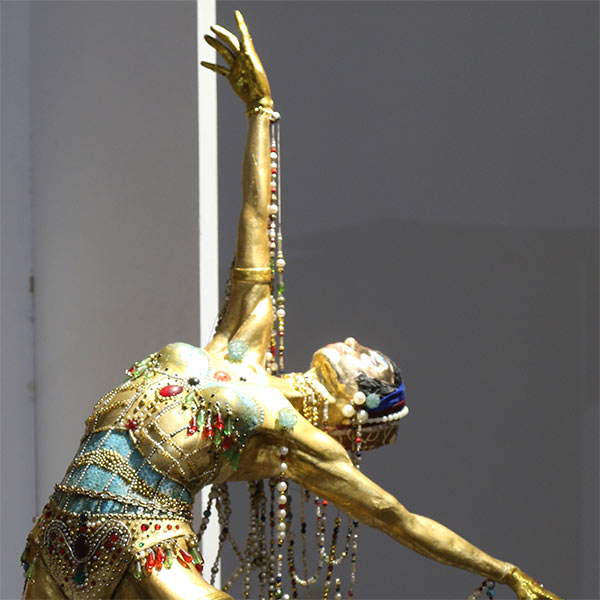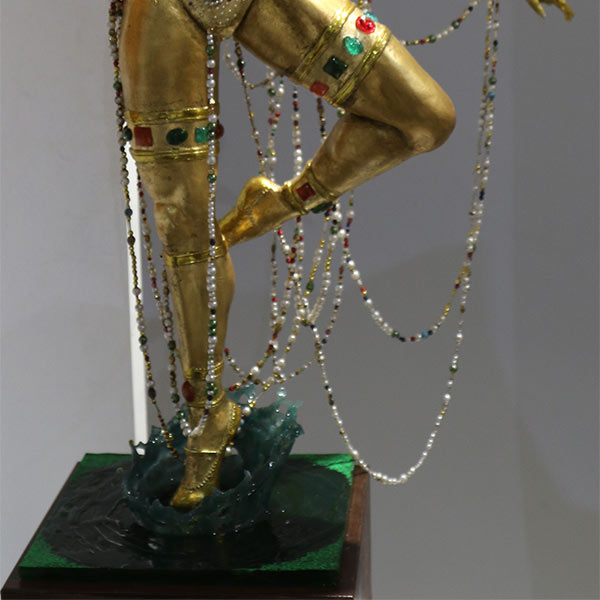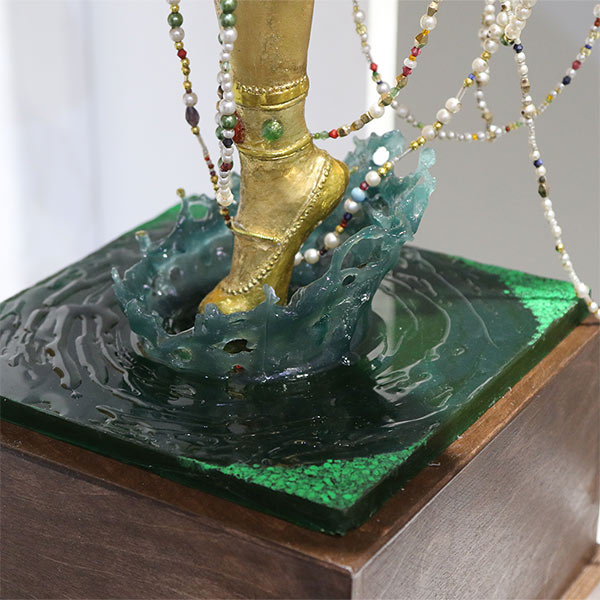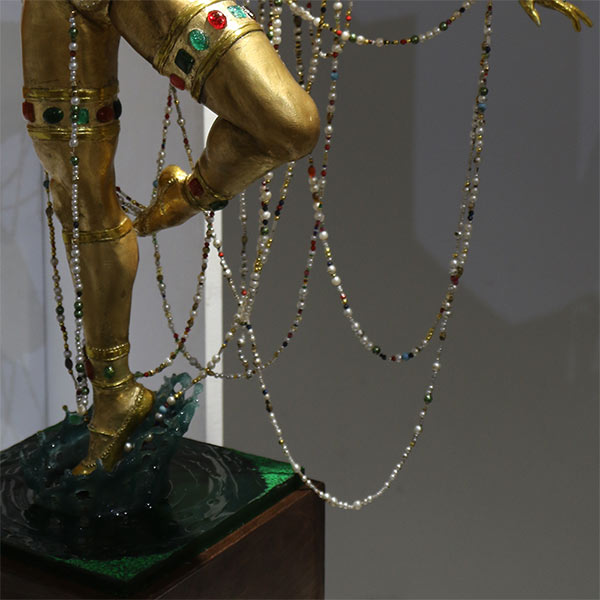 After watching the Love, Death and Robots episode 'Jibaro', University of Hertfordshire graduate Izzy Newman was inspired to create this wonderful Siren figure.
Izzy used Plastaline for the initial sculpt, from which she created a mould. The Siren was then cast using Fast Cast resin. It was dressed with Gold Leaf and adorned with a range of beads. The water splash is a clear 3D print that was embedded in clear resin, that was dyed to match the print.
PETERBOROUGH NORTH LAYOUT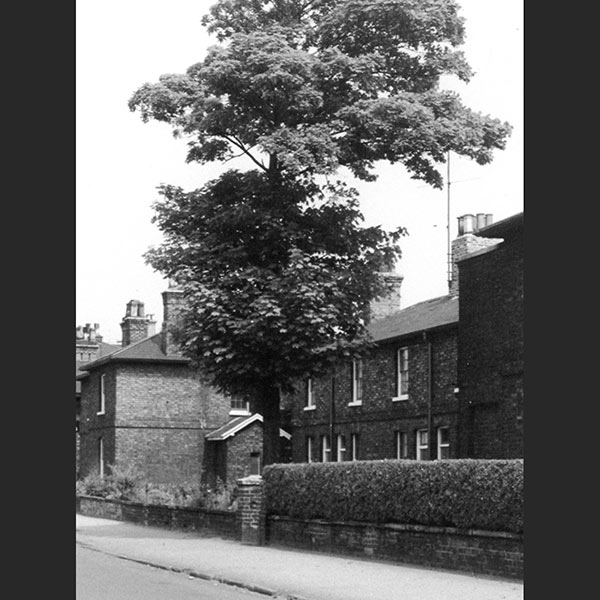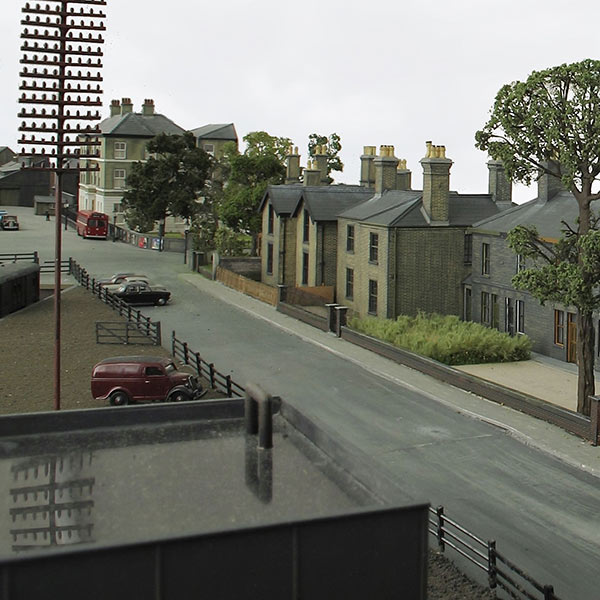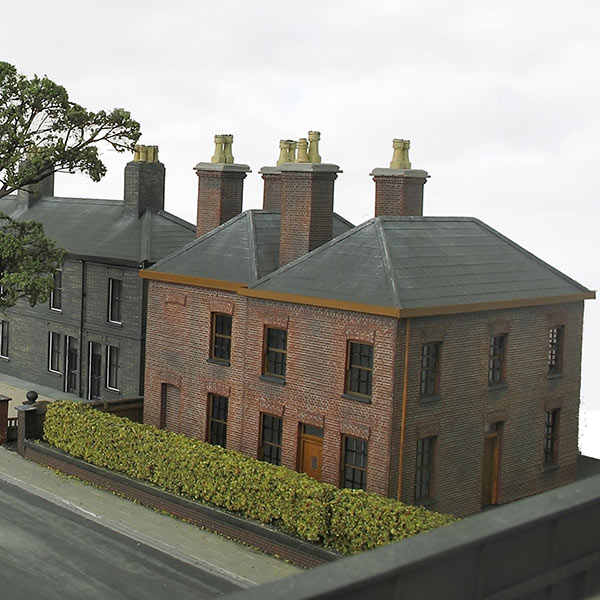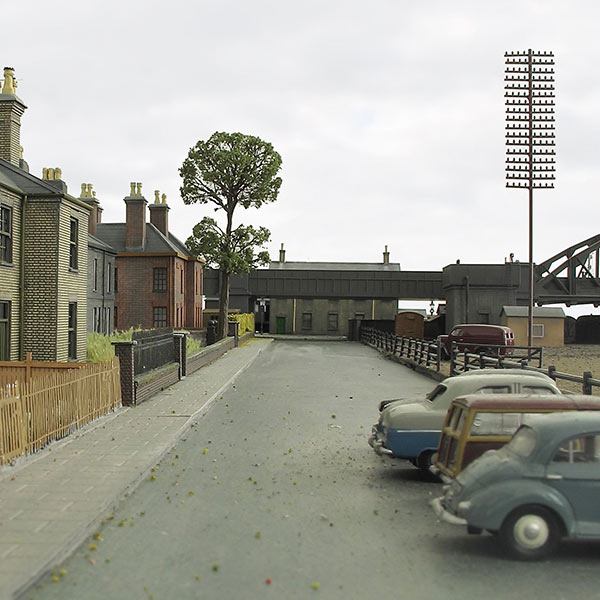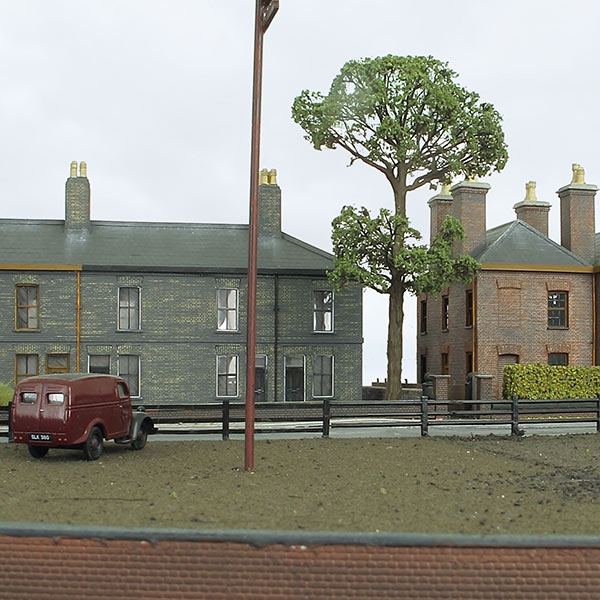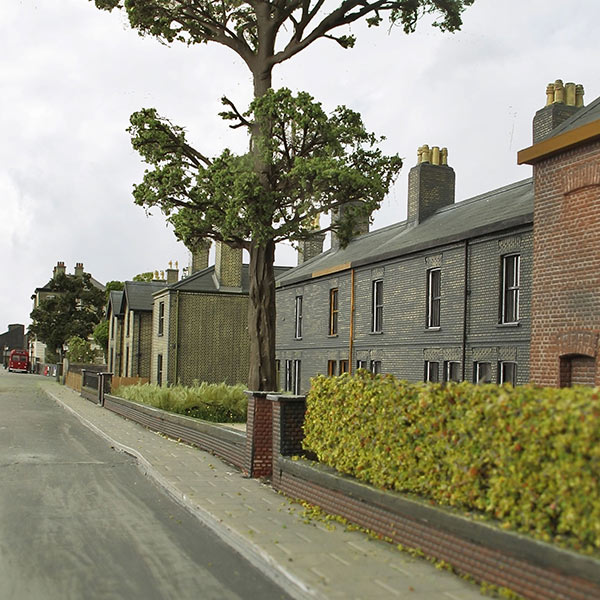 We were comissioned to copy a tree from a photo reference for Gilbert Barnatt's OO gauge representation of 'Peterborough North'. The 175mm tree was finished with a dark brown trunk and oak coloured foliage. Images courtesy of Gilbert Barnatt
CLENNAM HOUSE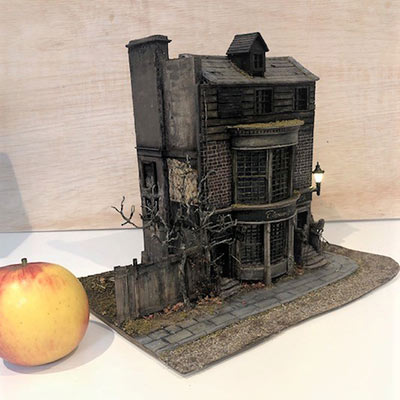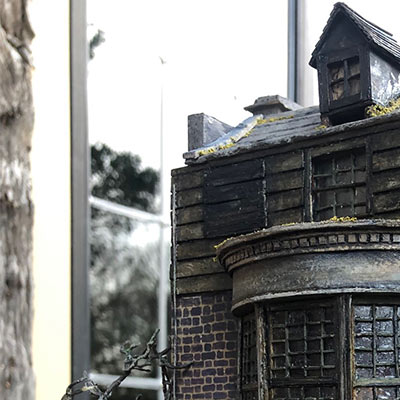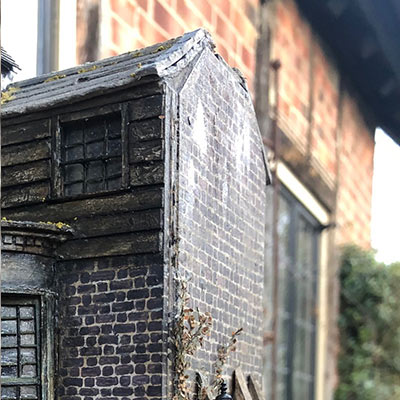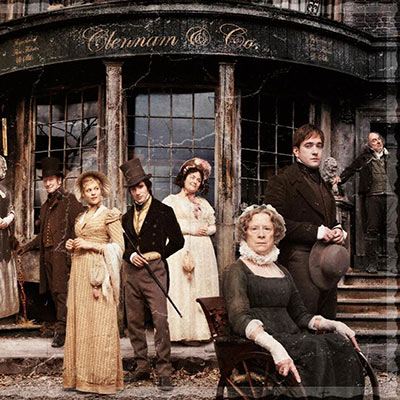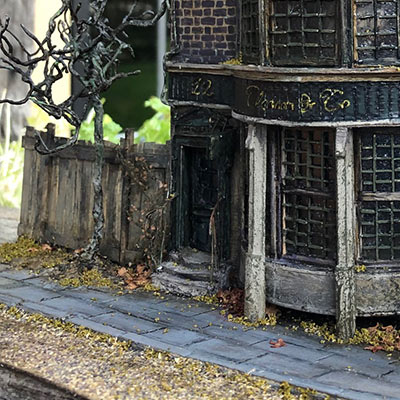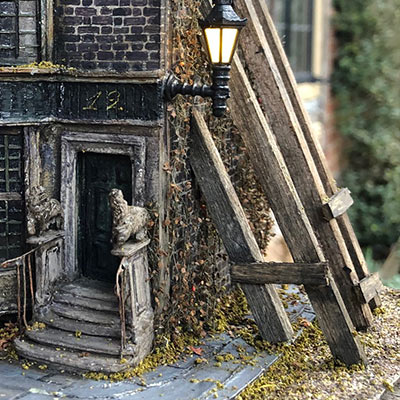 Helen Roberts used our Laser Cutting Service to cut sections for this highly detailed, 1:48 scale model of Clennam House, from the BBC's dramatization of Dicken's 'Little Dorrit'.
'MARSHPORT' BUILDINGS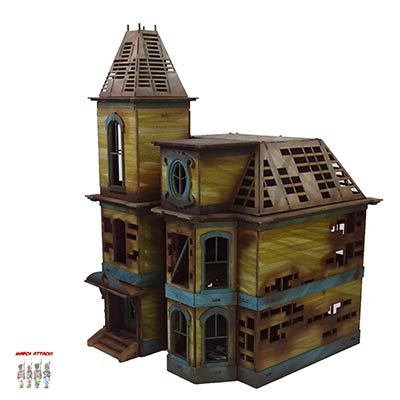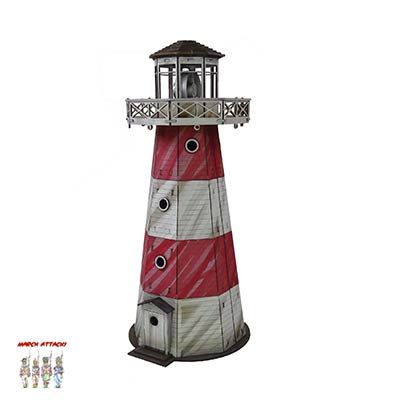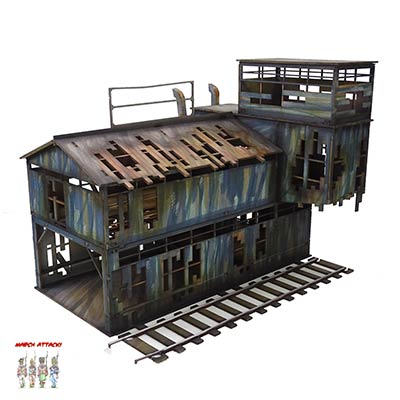 Customer March Attack designed & created a series of model kits for Crooked Dice Games.
A total of 14 kits were cut by our Laser Cutting Service on 1.0mm and 2.0mm card.
The 'Marshport' buildings were finished with marker pen and airbrush ink.
March Attack has produced a Guide to making and painting laser cut MDF model kits.
ONEOFF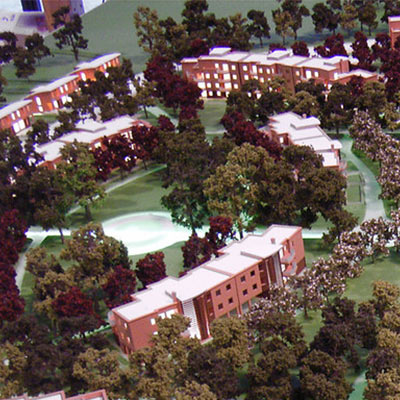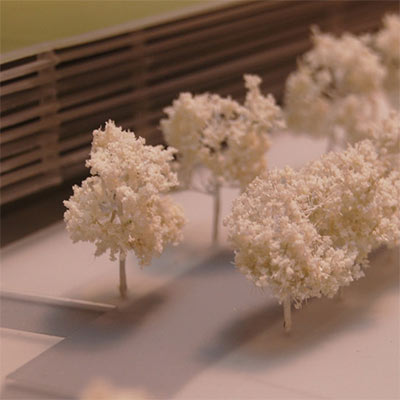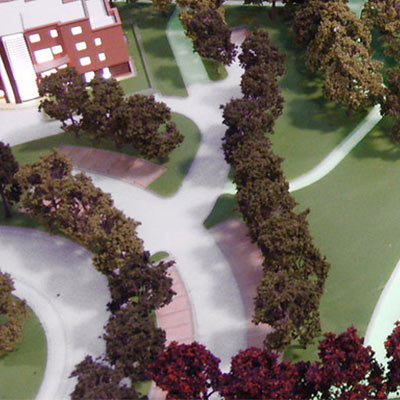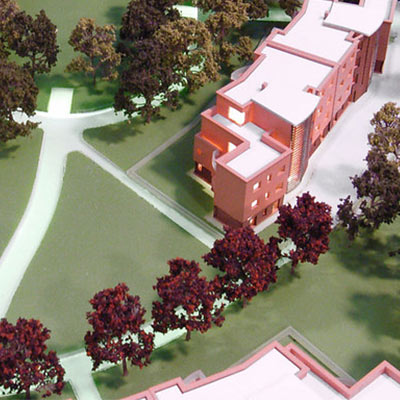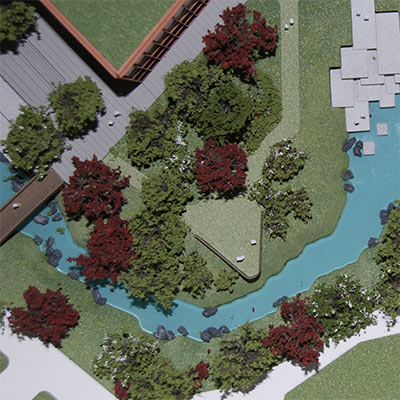 Model makers ONEOFF are based in Milan, Italy and make prototypes and architectural models.
There models feature many of our trees including Copper Beech, Cherry Blossom, Green shades & White etched trees.
OUGHTIBRIDGE MILL SITE MODEL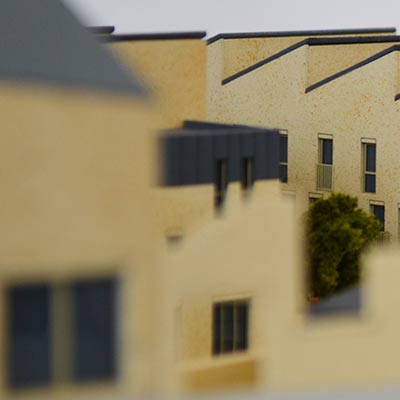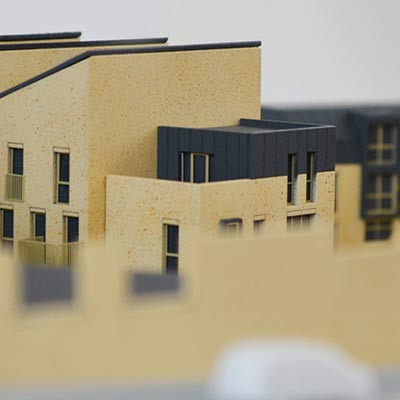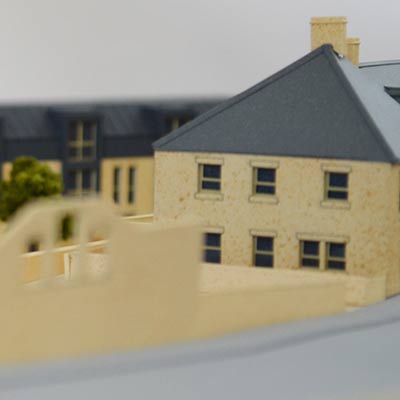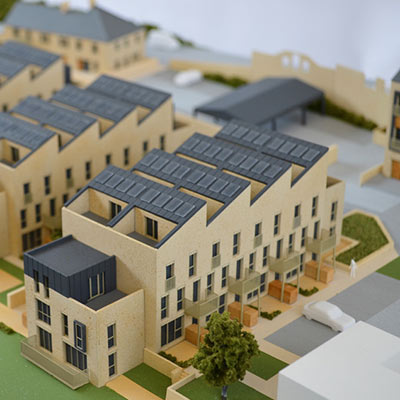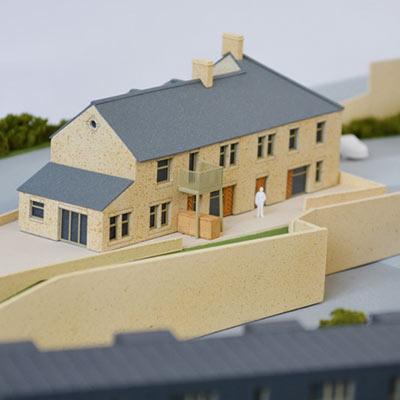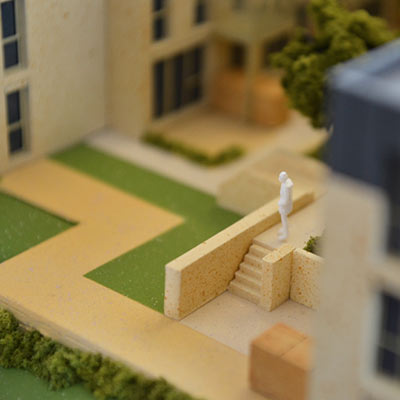 Model maker David Riley made this 1:200 site model for Sky-House Co (design by CODA Architecture).
David used a number of our products to complete the model including 1:200 white plastic cars, 1:200 bikes, 1:200 seated figures, 1:200 standing figures, light green ststic grass, 4D grass mix flock, 1mm white styrene and 1mm MDF sheet.
SIMON BAXTER PHOTO SHOOT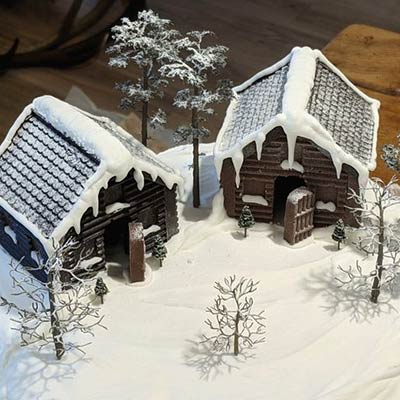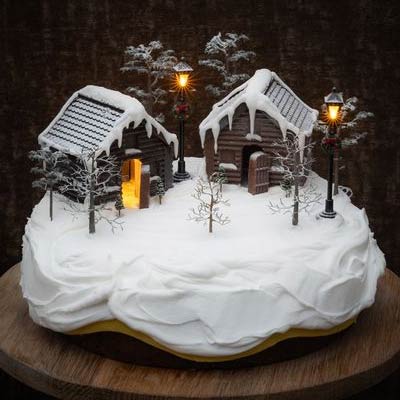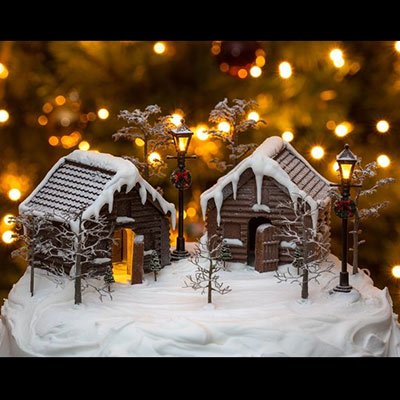 Landscape/woodland photographer Simon Baxter used our trees to decorate this Christmas cake for a photo shoot*.
The trees featured were Scots Pine (50, 75 & 100mm) Conifers (18mm) and Bare branch trees (50 & 75mm).
Further info: baxter.photos / Instagram
*Unfortunately we cannot recommend our trees for cake decorations as they can't be considered food safe (latex texture/foliage may fall onto the cake and mustn't be eaten).
MODEL TREES FOR SCALE RAILWAY LAYOUT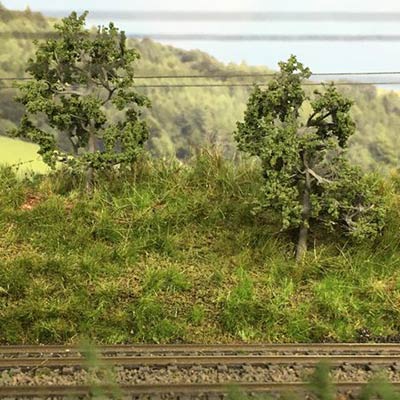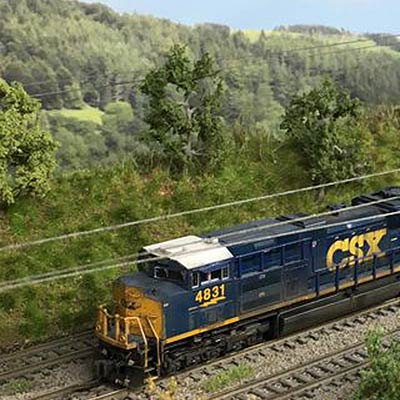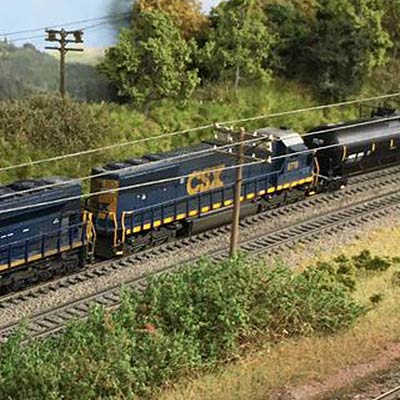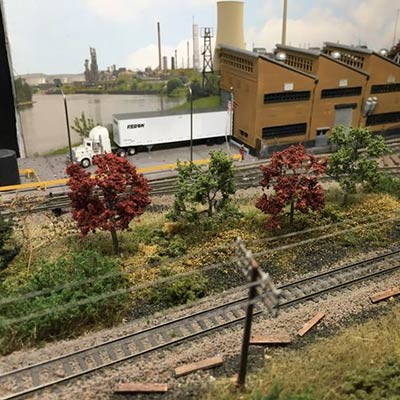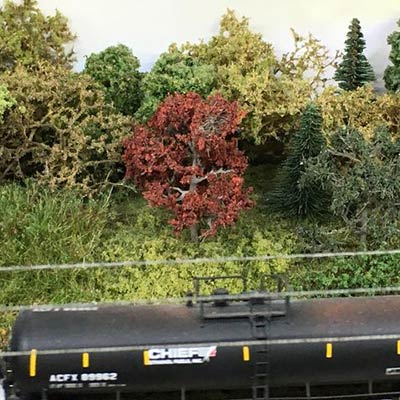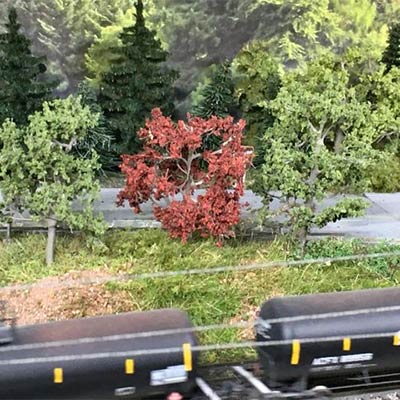 Customer Darren Sherwood-Jones added a range of our trees to his incredible model railway layout. He has picked a range of green shades and added copper beech & lime to add interest & realism. Trees used: Copper beech model tree (42mm), Dark green model tree (50mm), Lime model tree (50mm), Light green model tree (50mm) and Medium green model tree (50 & 42mm).
TELAVI WINE FACTORY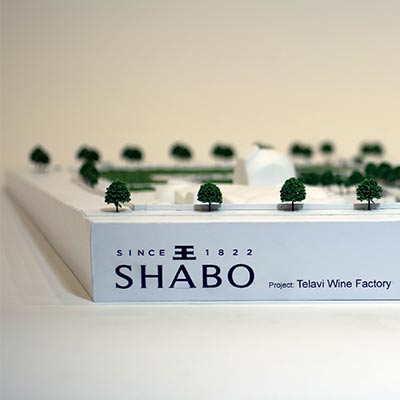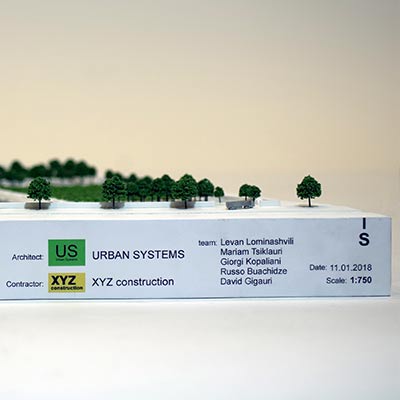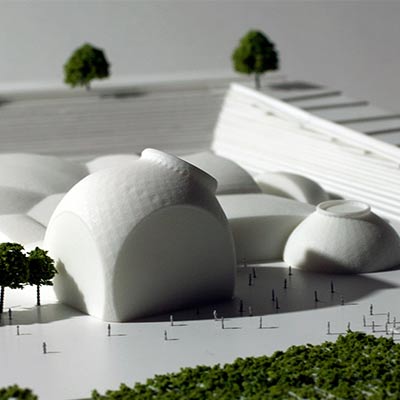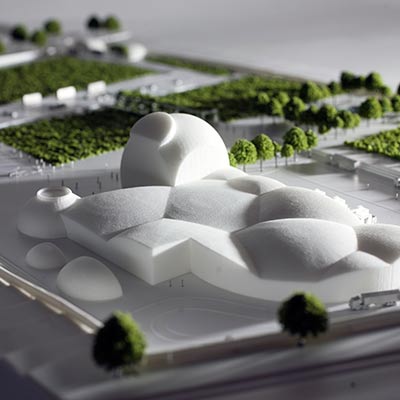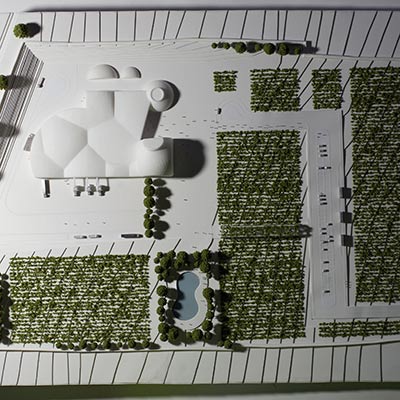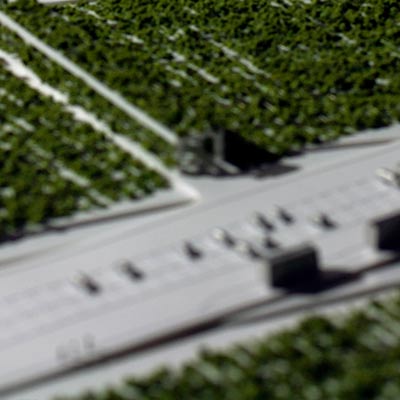 1:750 maquette by Urban Systems Ltd, lead model maker Giorgi Kopaliani.
Featured custom vines made by our Scenics Workshop, Deciduous green string & wire trees (6-8mm, 9-11mm, 12-15mm &18mm) and various 1:750 vehicles & lorries.
Photography courtesy of Nanka Dolidze
LASER CUT LINO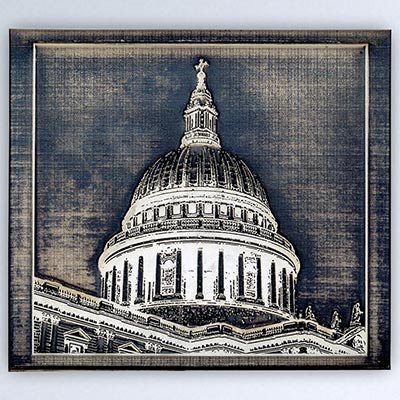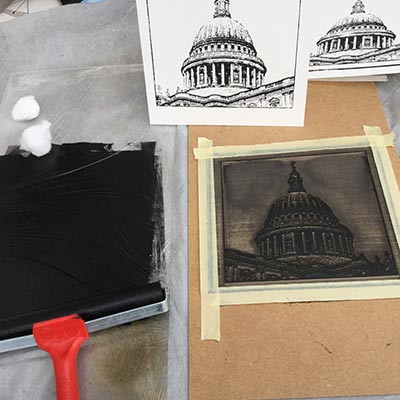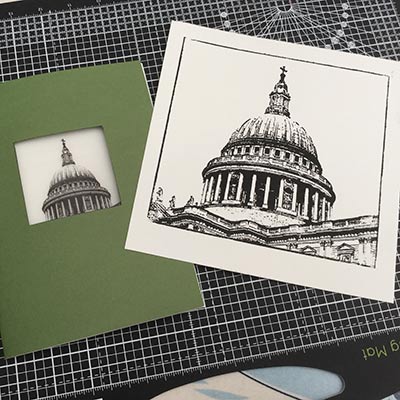 Our Laser Cutting Service engraved a piece of Lino Tile for Arcimboldi Press.
THE COUNTRY HOUSE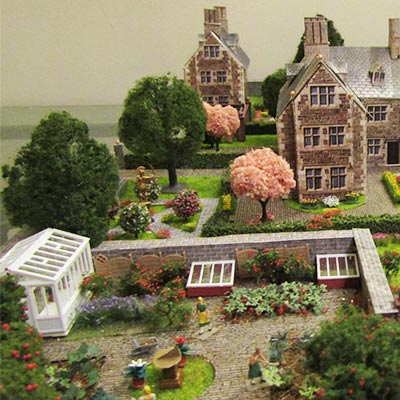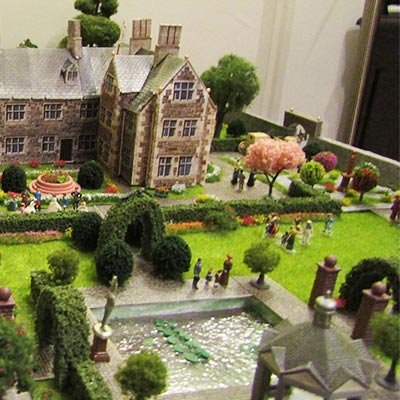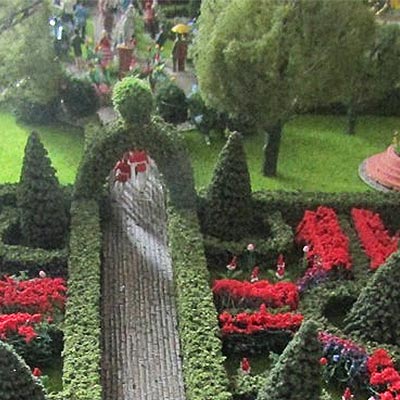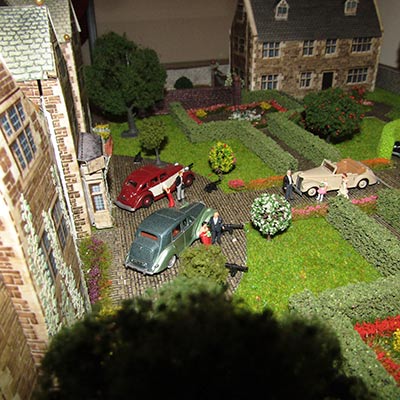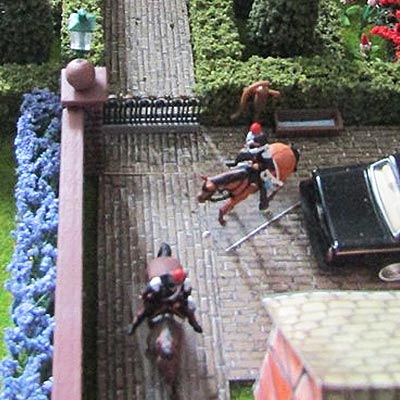 Customer Michael Arnold has made this excellent model using our 15mm hedges, 1:87 Preiser figures, bush tomatoes and strawberry plants.
The hedges have also been cleverly used to create the topiary arches.
STEAM TRAIN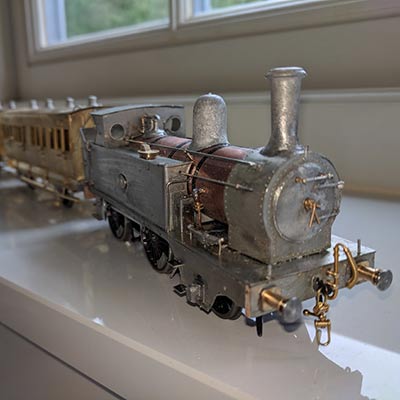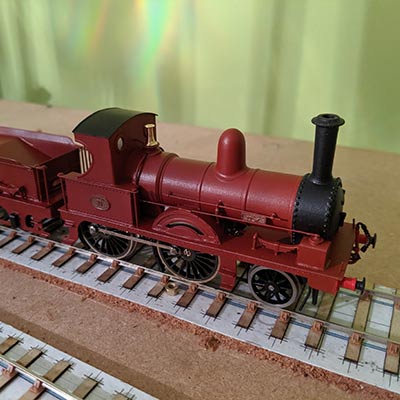 We received this superb photo from one of our customers. Metal etchings and castings were used to create this great model. Thank you Michael Woods. All made in our east London workshop
SCENIC MODEL RAILWAYS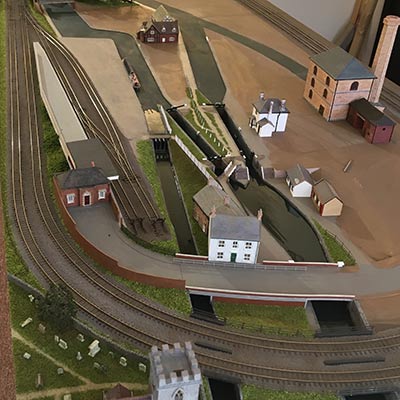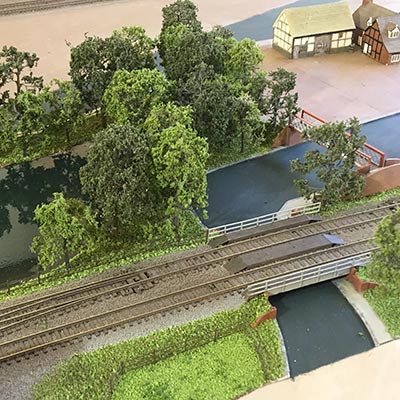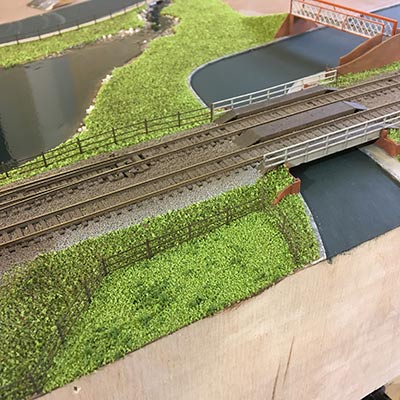 Scenic Model Railways make bespoke model railway layouts. On this one they have used a range of our standard trees.
SARGON DALEK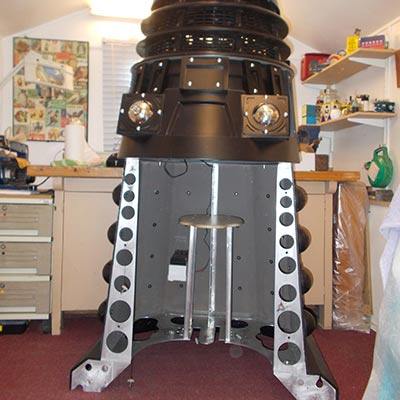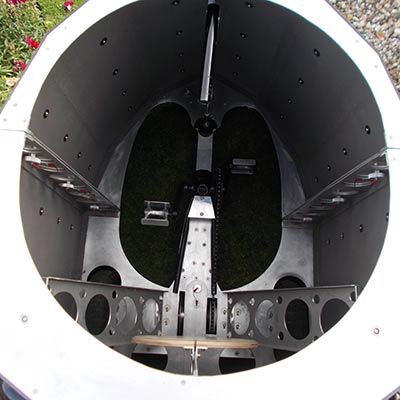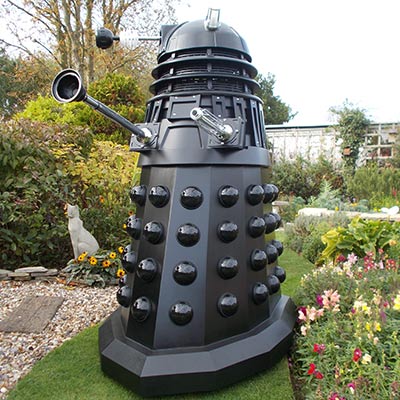 Robin Wakefield, an engineer ar BAE Systems took 2 years building this incredable full sized Dalek he named Sargon. It is full sized, has a voice modulator & is powered by peddles inside
The skirt is adorned with x54 100mm diameter acrylic half domes (SB73100)
Robin is using Sargon to raise money for the British Heart Foundation.
TOM SANDS GUITARS
Copper etching detail for Tom Sands Guitars.
BURNHAM-ON-SEA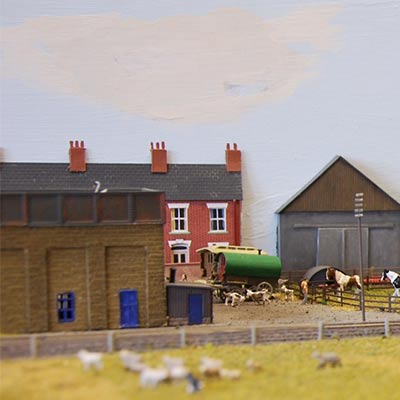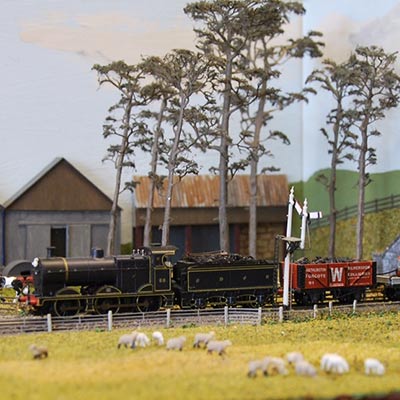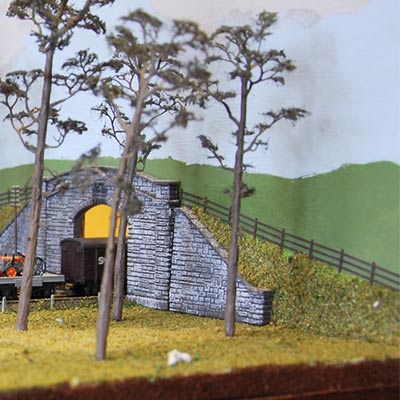 Railway layout model by Alastair Knox featuring our Scots Pines planted at a slight angle to give a windswept look.
LIVERPOOL SOUTH PARKWAY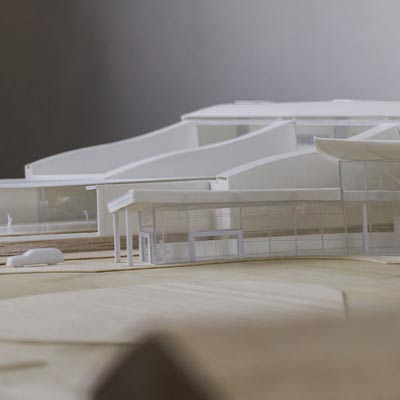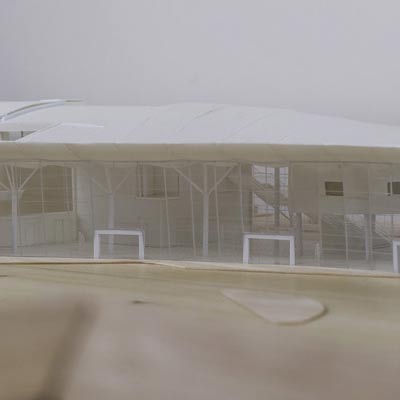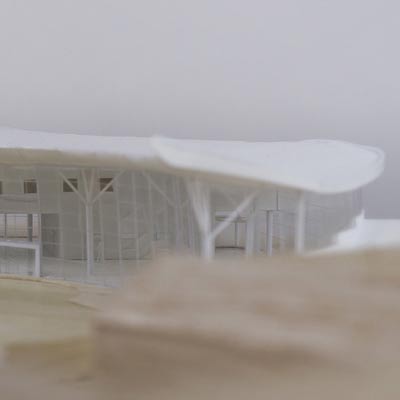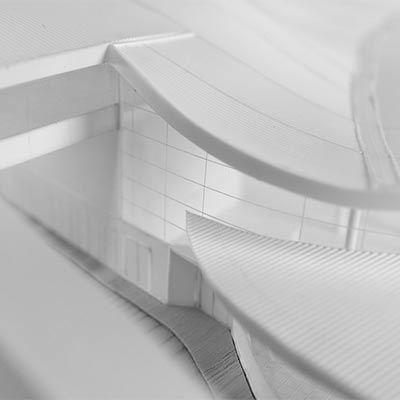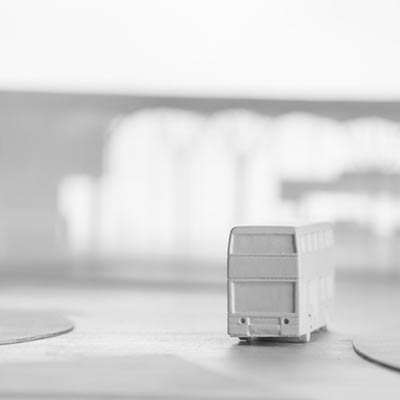 This 1:200 scale model of Liverpool South Parkway railway station was created for presentation in the lobby of the Sheffield office of the building's designers; Jefferson Sheard Architects.
White styrene forms the main structure with clear plastic to represent glazed areas. Set in a pine wood base, with hand carved and smoothed embankments and maple veneer representing the road and path layout, the white building is highlighted via its contrast with timber. All elements are hand cut, carved and scribed except for the floor tiles in the main interchange which were laser-engraved.
Model Maker: David Riley
Photography: Ladoza
4D materials used: Clear PETG, Corrugated styrene sheet, 1:200 figures, 1:200 Bus Atlantean, 1:200 Bus single deck, 1:200 Cars white plastic Pk20
PROJECT EREBUS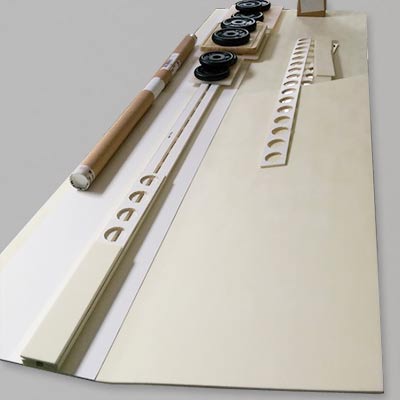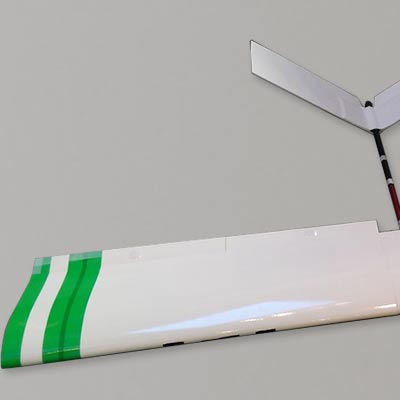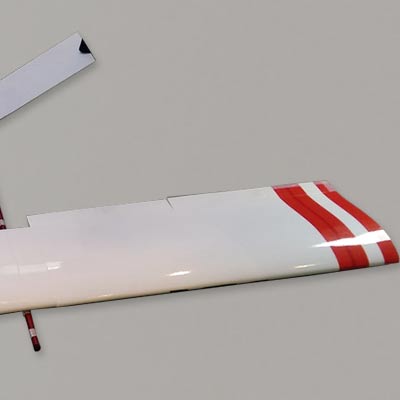 Erebus is a project combining remote flying technology with bat conservation. The idea is to build a small plane that houses a microphone in order to record bat populations.
Tom A & Tom M had to build a RC plane with as large a wing area as possible that also had to be light and strong. They chose Kapa foamboard supplied by us to form these wings.
The wing stiffness is partially provided by a 2m carbon fibre spar which runs the length of the wing and is held in place using foamboard 'formers' which help create the aerofoil shape of the wing.
Full details of the project can be found at projecterebus.weebly.com
ARCHITECTURAL MODELS
Various architectural models using 4D modelshop landscaping and model detail. Deciduous green etched trees, Cherry Blossom trees, 4D flock and texture, styrene strips, card, and metal cast figures & cars.
RICHARD B RIDDICK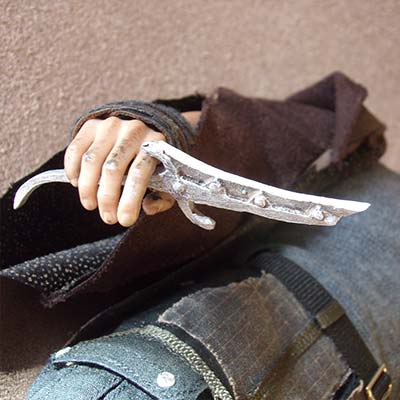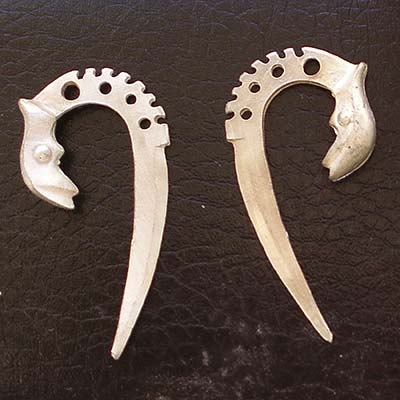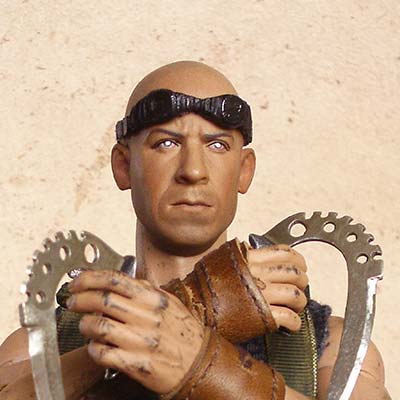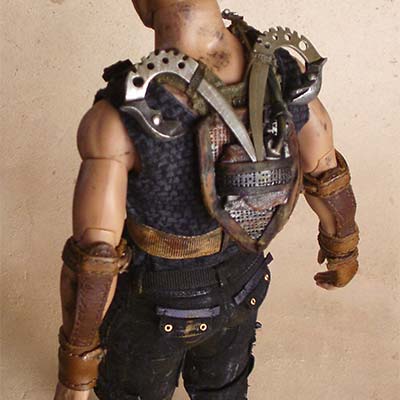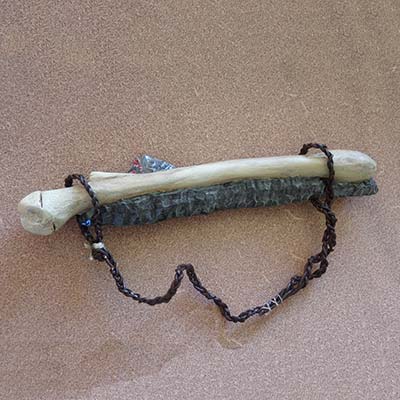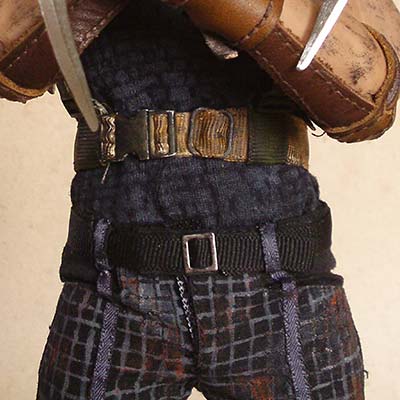 Model Maker: Brian Cassidy
Scale: 1:6
The curved weapons or 'Ulaks' were sculpted by Brian and copied by our Custom Casting Workshop.
The Ulaks and other accessories are available here: einordmaine
WILDLIFE MODELS
Just 3 of some 40 models made for Akrotiri Environmental Education Centre, Cypress.
Models made using Styrofoam, brass rod, styrene sheet, surface detail applied using Milliput and Super Sculpey, coloured with acrylic paint.
Model Makers: Pam Knight and Beth Knight
COAL MINERS JOURNEY
This exhibit by Keaton Howes is a work for the DS21 MArch Studio University of Westminster
It maps a coal miners journey from his house to the coal face (represented by the black line both above and overground) against time and distance. Time going round and distance towards the centre (the coal face). The red circles also plot temperature.
All elements apart from the nuts and support tubing were cut in our Laser Workshop.
SKID LOADER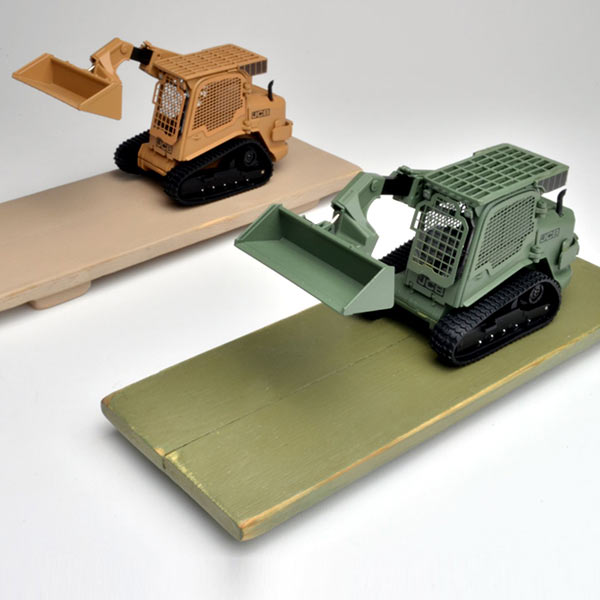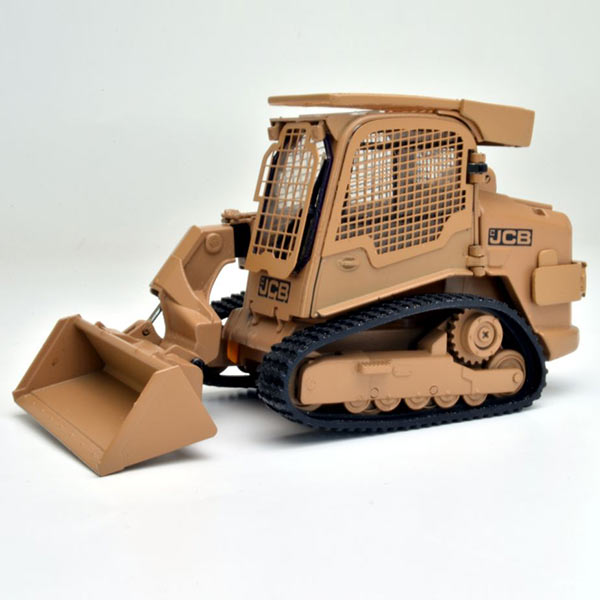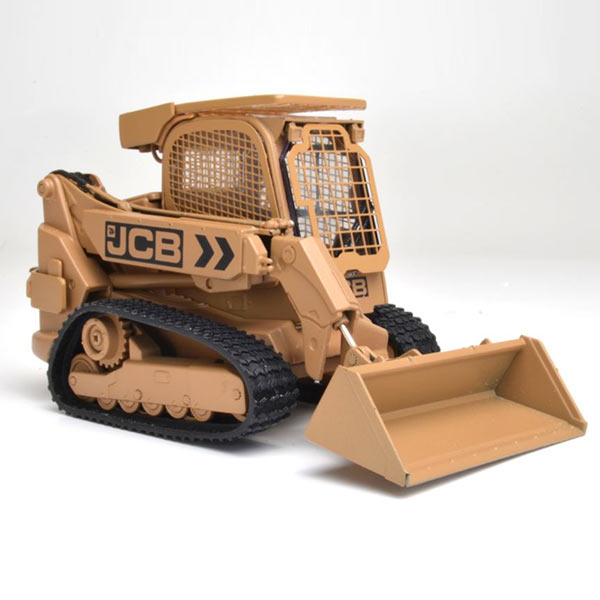 Etched skid loader window guards for Code 3 Models.
LINO CUTTING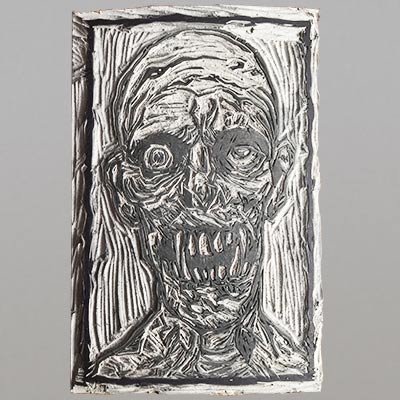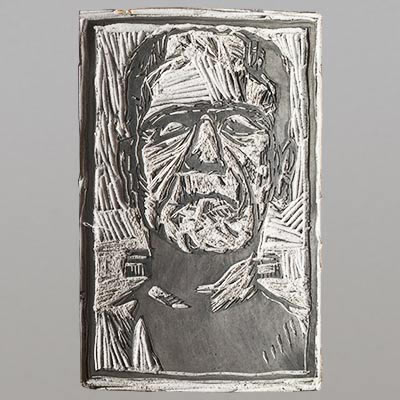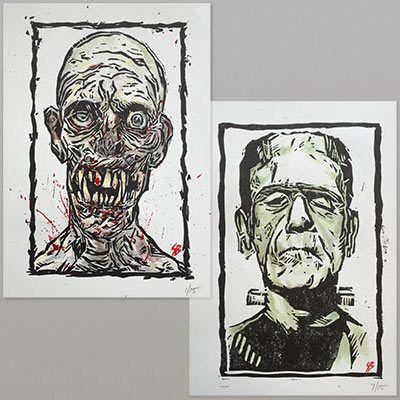 Lino cut zombie and Frankenstein by Stuart Barrie.
PVC FOAMED 'PALIGHT' LAND ROVER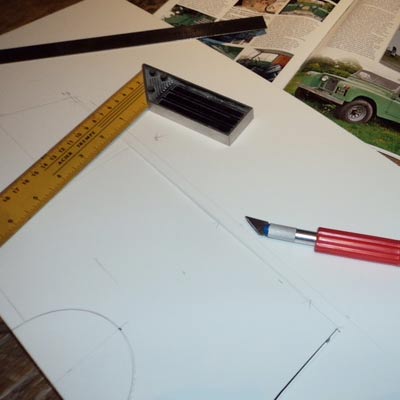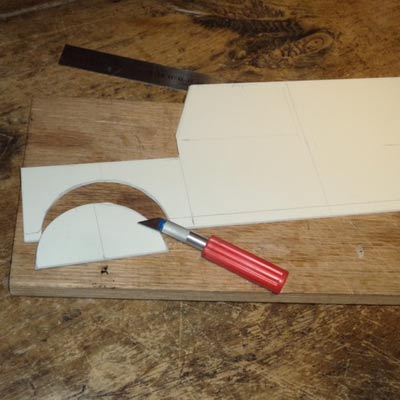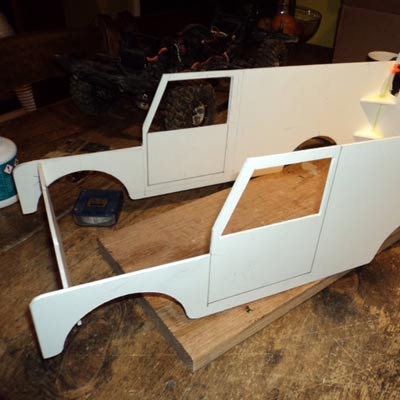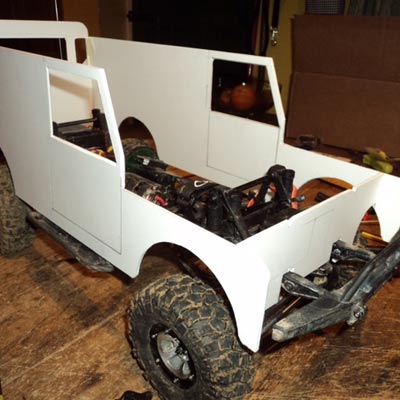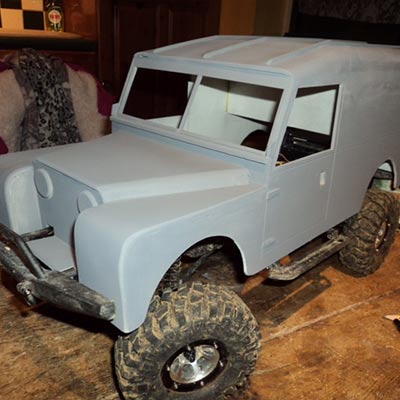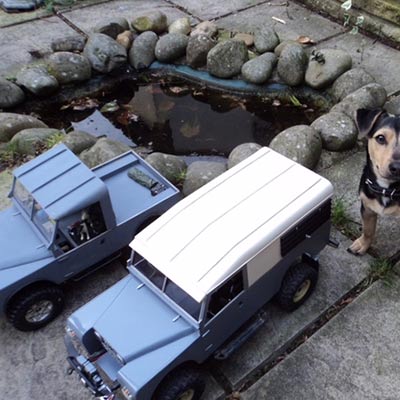 Graham Coles constructed this Series 1 Land Rover from 3mm PVC Foamed Palight.
Graham prefers to use Palight for his radio controlled vehicles as it is strong, light, waterproof and also resistant to heat.
It also has the added advantage of showing the battle scars of any off road incidents, just like a real Land Rover would.
STANHOPE GATE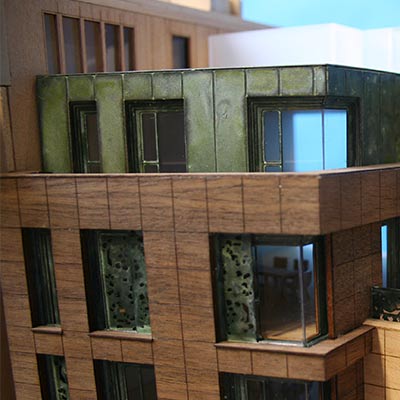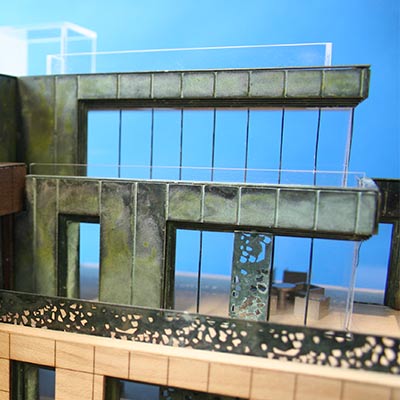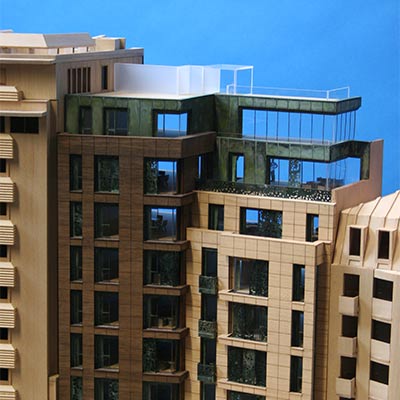 Model Maker: PLP in-house model makers
www.plparchitecture.com
1:100 Scale patinated nickel silver etching and maple veneer.
JOSHUA KANE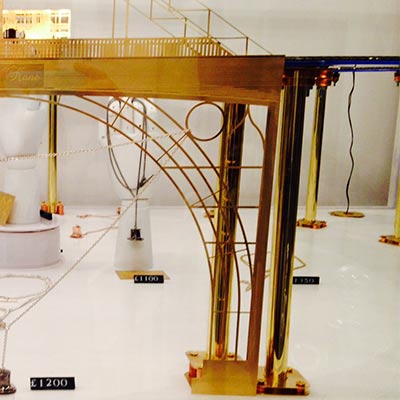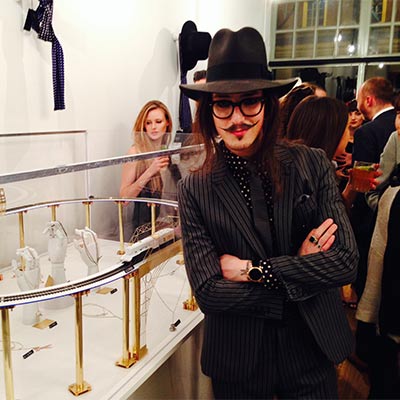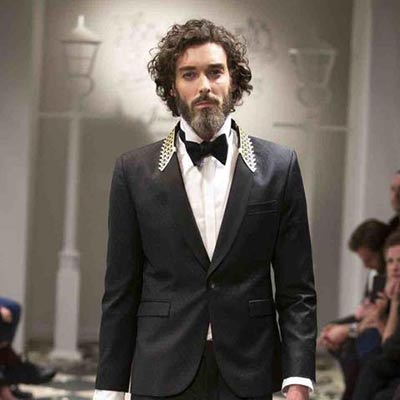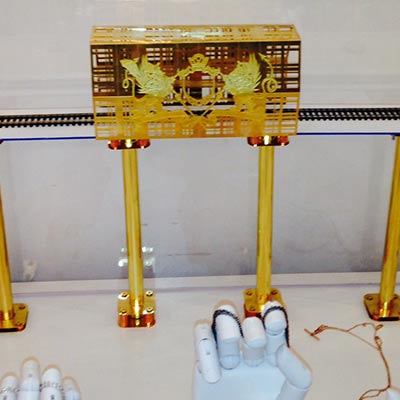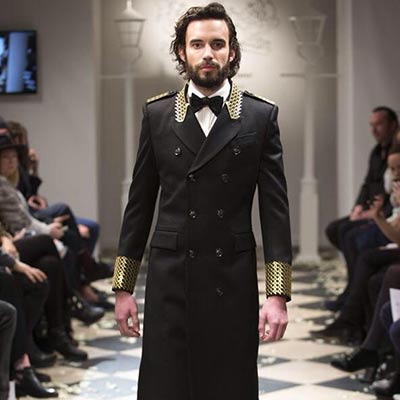 Etched train track and laser cut acrylic base for an in-store jewellery display.
Etched jacket collar & cuff detail for fashion show.
2001: A SPACE ODYSSEY EVA POD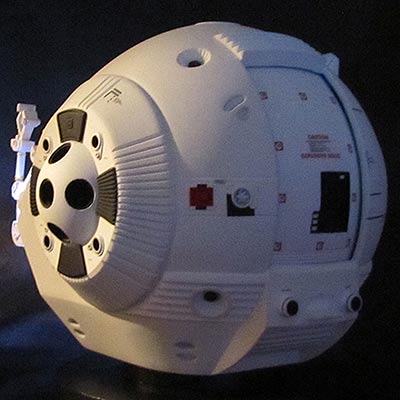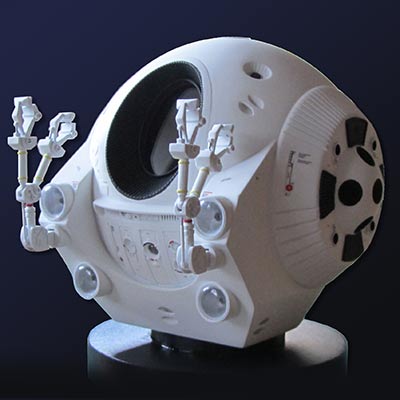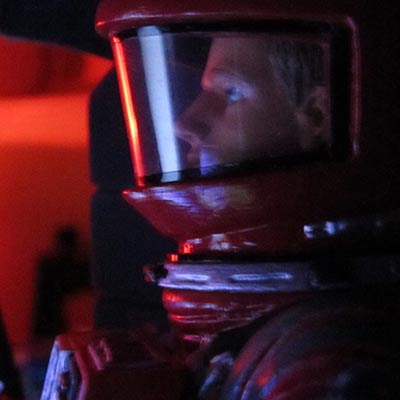 Model maker: Russell Lane
The model was coloured with Humbrol acrylic (and enamel) spray and pot paints, varnishes and primers and Molotow spray paints.
The 2001: a space odyssey EVA pod model was made by Scott Alexander from Atomic City and finished with many 4D products including styrene sheets - corrugated, clear, tubes, strips, rods and half rods, LED bulbs, battery boxes and connectors & wire, fibre optic lighting packs, Model Technics trimlines (black, red and yellow).
ARCHITECTURAL MODELS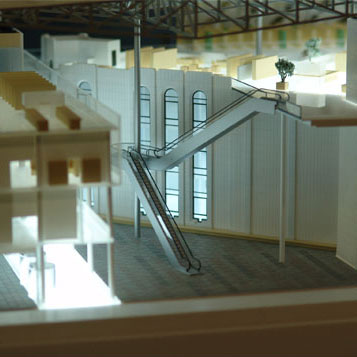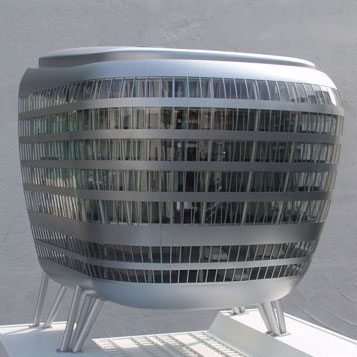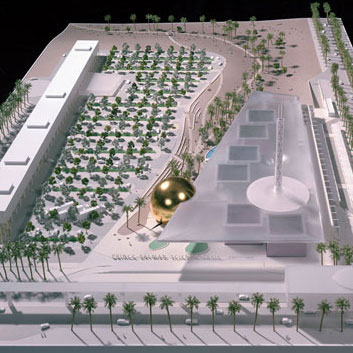 Model maker: INNOVATION TECHNOLOGIES
Models:
King Fahad Library 1:200 (TL)
Baustelle Airrail Center Frankfurt 1:75 (TR)
Prince Salman Science Oasis 1:200 (BR)
Our Scenics department supplied the scenic material.
SUPERPOSITION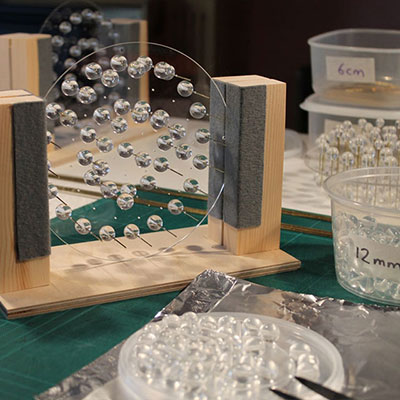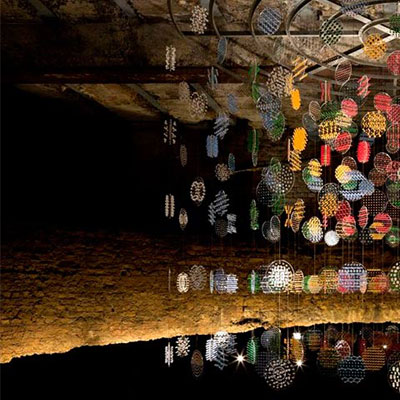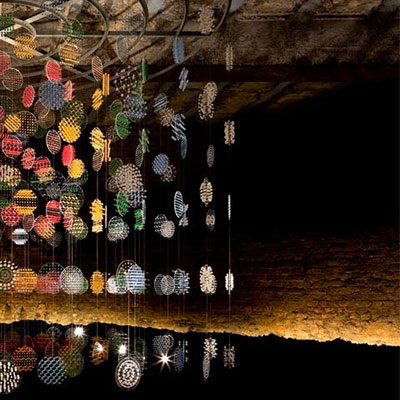 Detail of an artwork by Lyndall Phelps, which is being made for Superposition, an art/sci project developed by the Institute of Physics.
We supplied 0.5mm brass rods for this project.
Photography by Richard Davies
SELFRIDGES WINDOW DISPLAY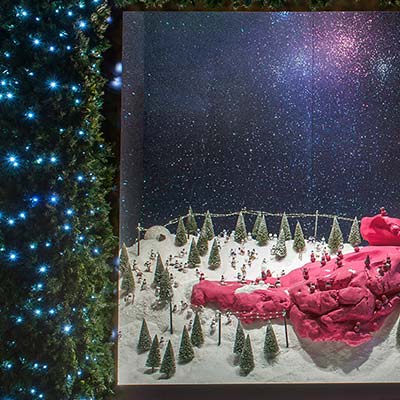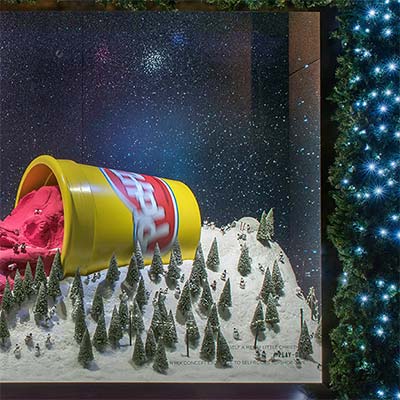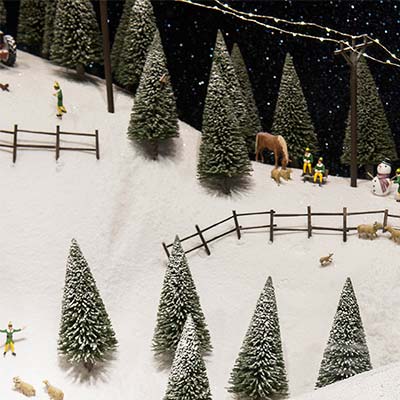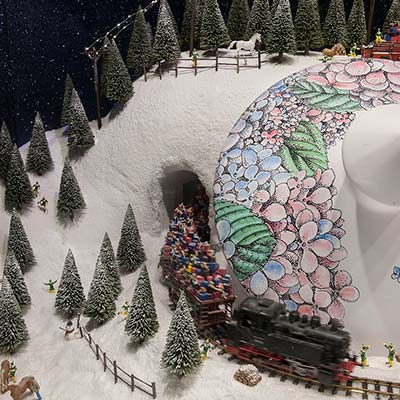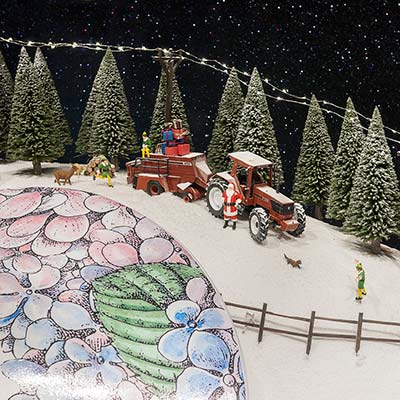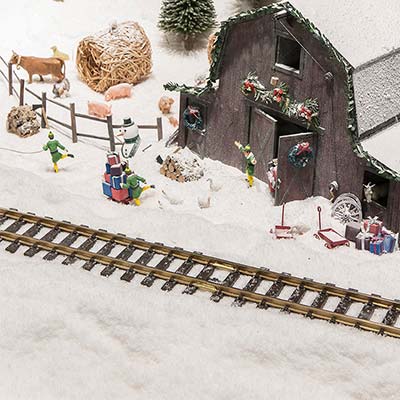 Model Maker: Selfridges Windows Production
Location: Selfridges Oxford Street London
Photography courtesy of Andrew Meredith
Our Scenics department supplied 200mm & 250mm conifer trees.
WONDER WOMAN SWORD & SHIELD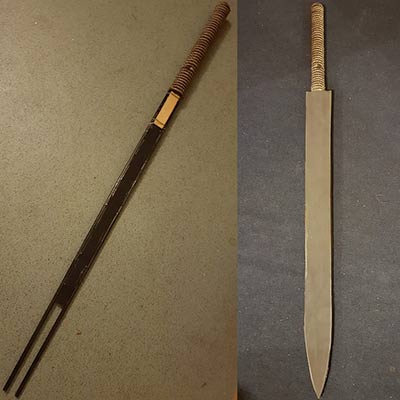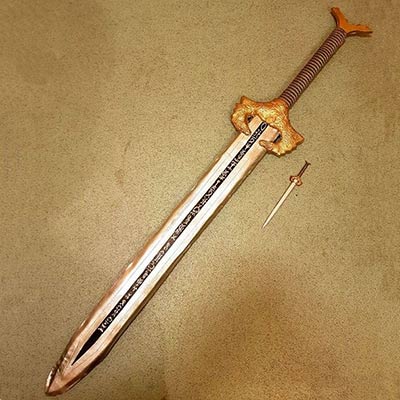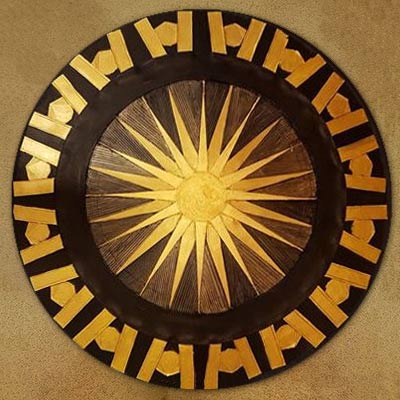 This Wonder Woman sword and shield was made by local customer, Stephenie Robinson, who's son introduced her to Cosplay.
Stephenie's first attempt at prop making was the scaled up version of the Wonder Woman sword copied from a 1/15 scale figure.
The core piece of the sword is made from 10mm CF100 Craft Foam flanked either side by Carbon Fibre Rod to strengthen. The outer blade is made from 2mm thick EVA Craft Foam and the Craft Foam Clay for the dragon cross guard.
To compliment the sword, Stephenie constructed the shield using CF65 Craft Foam and lollisticks.
You can find out more about the build on Stephenie's Facebook page.
BAG END HOBBIT HOUSE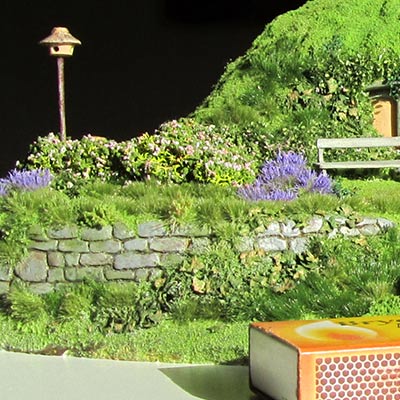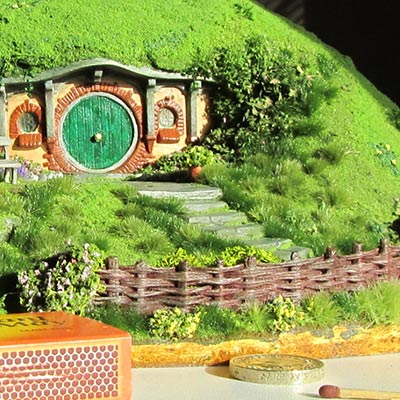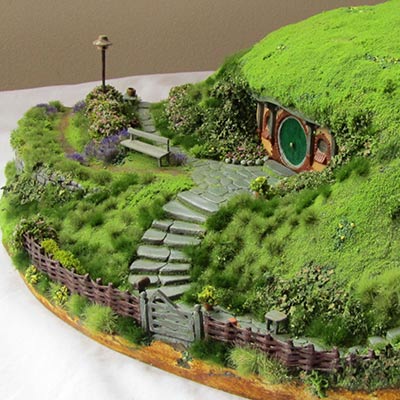 Model maker: Russell Lane
A completely scratch built model of Bag End.
Materials used in its construction include: 1:12 creeping ivy, purple & green texture, grass tufts, lichen, flexi bark, air drying clay, plaster mixed with paper fibres for the bulk earthworks, dolls house plant arrangements 1:12, window frames and doors.
1:200 TECH-HUB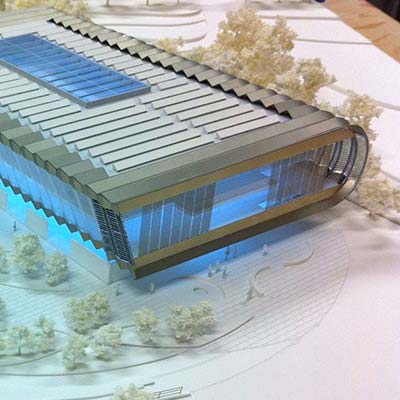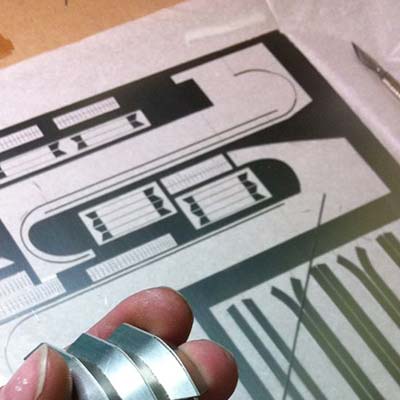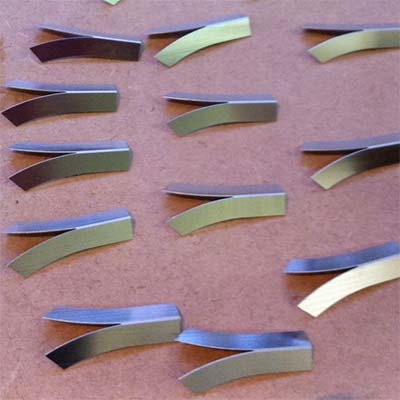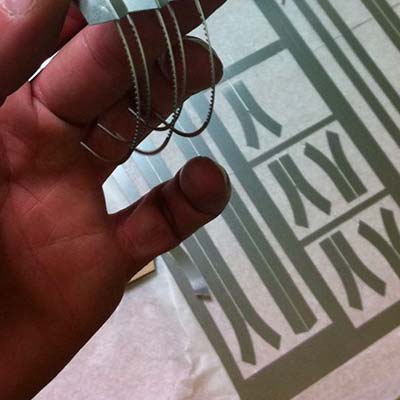 Model maker: Scales & Models
Architects: Abell Nepp
Scale: 1:200
We supplied: metal etchings, acrylic sheets, model trees.
LASER CUT PLAQUES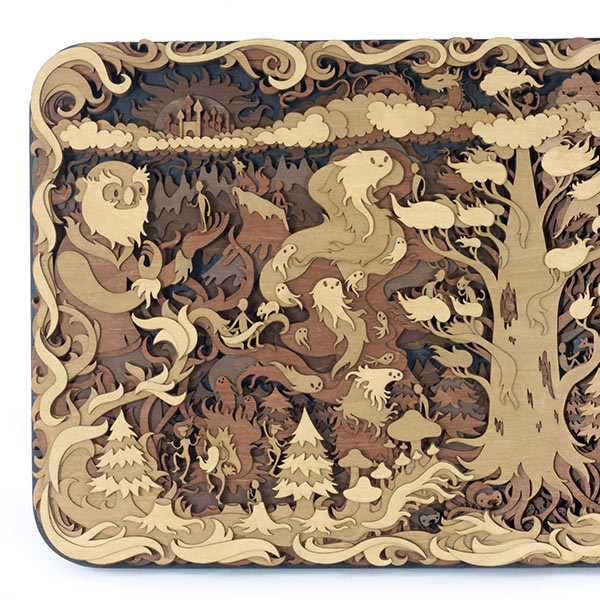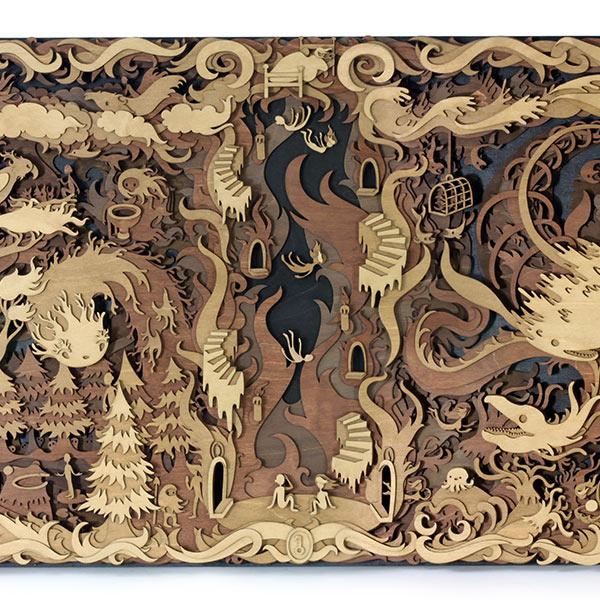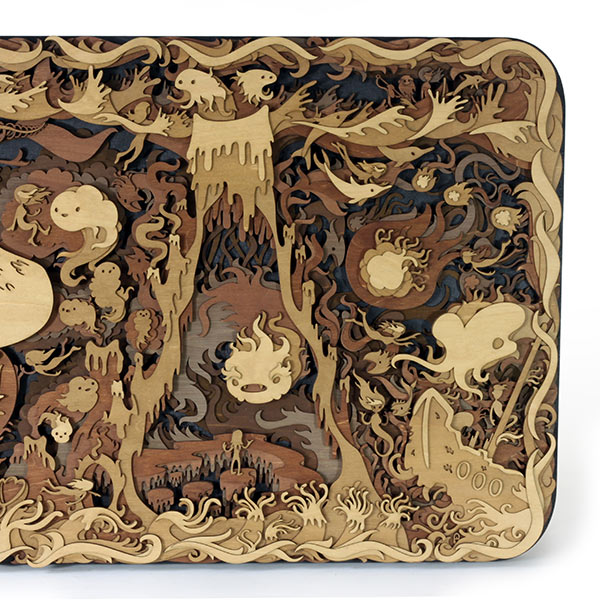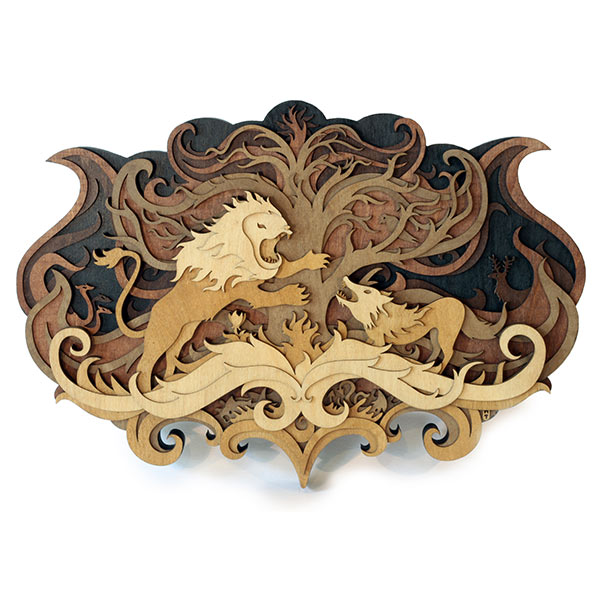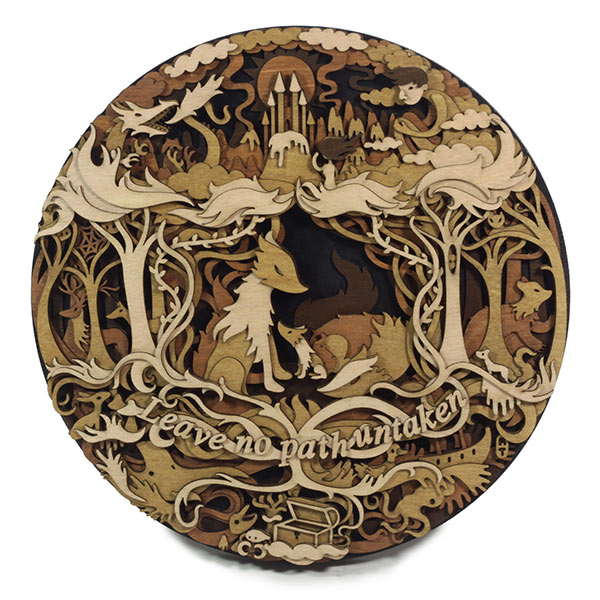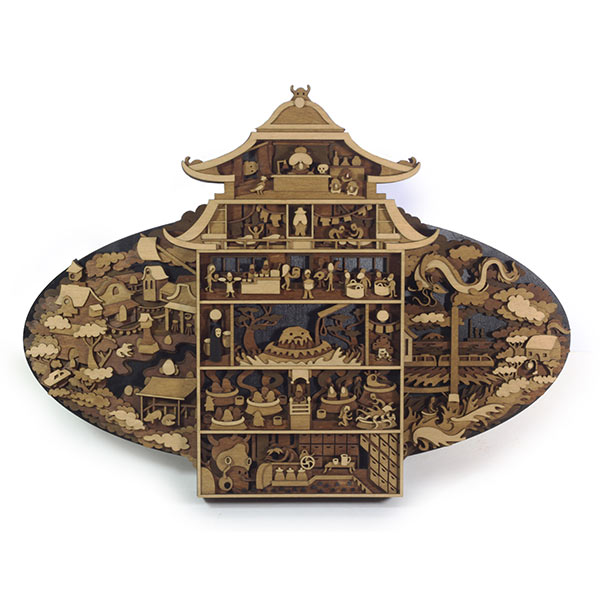 Model Maker: Martin Tomsky
Layered, laser cut, plywood illustrations.
4D products used: plywood & wood dye.
Sections cut by the 4D modelshop laser department.
Martin's work is available on Etsy: http://www.etsy.com/shop/mtomsky
SELFRIDGES HERMES SCARF WINDOW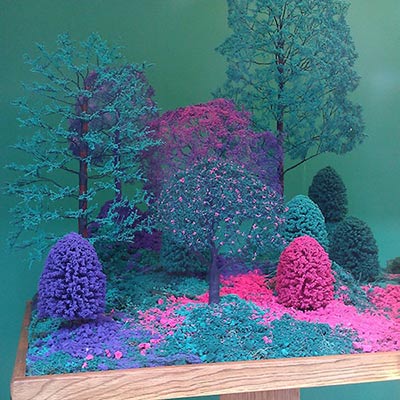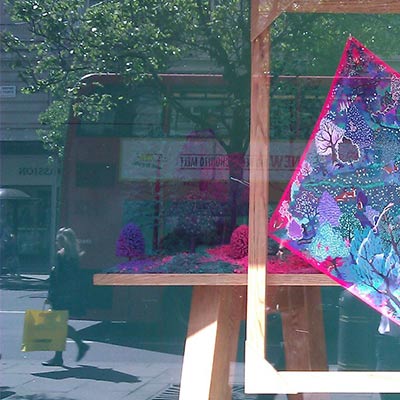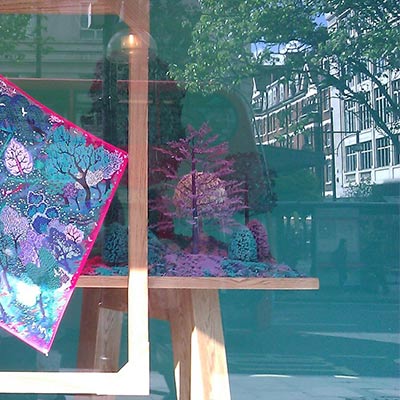 Model Maker: Selfridges Windows Production
Location: Selfridges Oxford Street London
The colourful trees were bespoke commissions made by our Scenics workshop.
Individual tree images available on our Bespoke tree page
MAURITIUS & REUNION ISLAND ARCHITECTURAL MODELS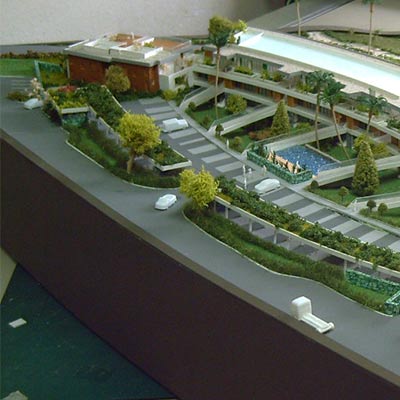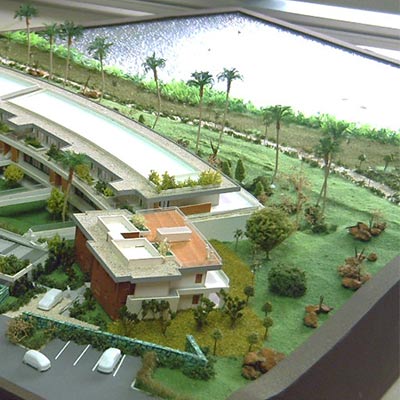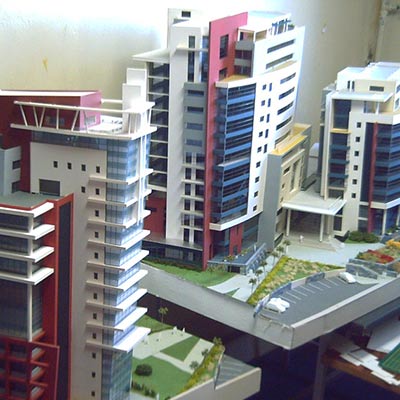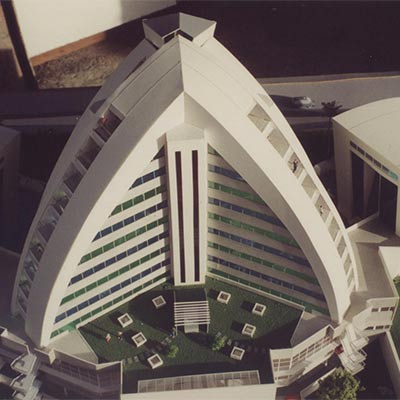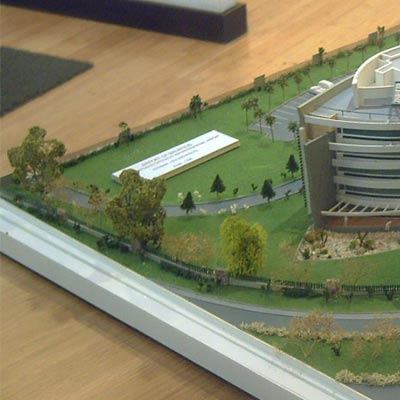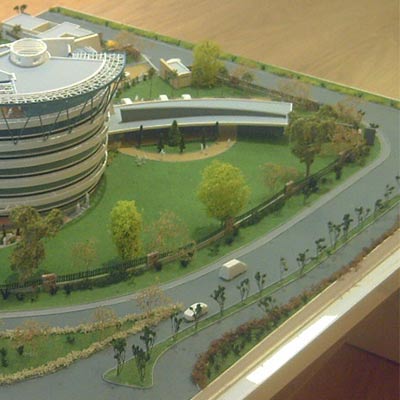 Model Maker: Bayaram Francis
Azuri: Luxurious apartments facing sea at Riviere du Rampart. Scale 1:200
Nexteracom: Office buildings at Ebene. Scale 1:100
Office and commercial buildings at Reunion Island. Scale 1:100
AML: Offices for Mauritius Airport.
OTHER PROJECTS