DATE:
26th June 2021
9.30am - 2.30pm
DETAILS:
Part of the London Festival of Architecture
Looking forward to improve your model making techniques?
Atelier La Juntana and 4D Modelshop, with the support of Axalta Powder Coatings, are organizing this 1-day online workshop where you will discover innovative techniques to produce astonishing architectural models, including the use of silicone moulds and casting materials. The workshop will take place online, with all the required materials and tools sent by post directly to the participants address ahead of the workshop, and the theory and workshop agenda run virtually. The package will include exciting colours from our support partner Axalta Powder Coatings. Please note the delivery address for the package needs to be based in UK, for overseas deliveries additional shipping fees may apply.
The course will give participants an overview of the world of model making, providing an understanding of the process of casting, covering the different techniques and materials available, including the use of silicone moulds, casting coloured transparent resins and plaster resin with different tones and additives. Both beginner with little experience and those with professional ambitions are welcome to participate.
To close the session we will be joined by representatives from the London Festival or Architecture, Axalta Powder Coatings and 4D Modelshop to briefly present the workshop results through an online interactive exhibition.
MODELMAKING IN THE DIGITAL AGE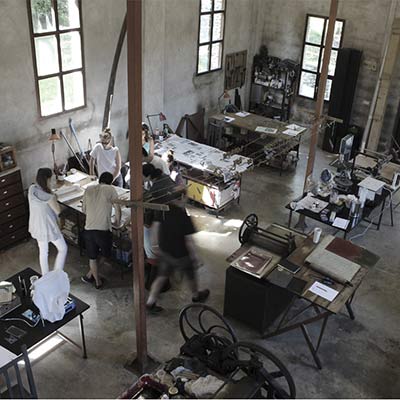 DATE:
Standard: 04/07/21 - 10/07/21
Advanced: 22/08/21 - 28/08/21
Standard: 30/08/21 - 05/09/21
DETAILS:
Do you want to discover the world of Modelmaking while staying in a Natural Park in the North of Spain? Join us!
Atelier La Juntana, in collaboration with the Architecture Official College of Cantabria and the Polytechnic University of Madrid, is organising the fifth edition of the summer workshop 'Model Making in the Digital Age' for architects (both students and professionals) and makers willing to investigate and discover different techniques and materials, while developing an architectural model.
The workshop will particularly observe the relationship between traditional craft and digital design. Led by architects Armor and Nertos Gutiérrez Rivas, along with interdisciplinary artist Daniel Gutiérrez Adán, the next workshops will take place at Atelier La Juntana, located in Santander, Spain.
Both beginners with little prior experience and those with specific professional interests are invited to participate.
The workshop is a full-time course, starting at 09.30am and finishing at 5.30pm each day, with a total of 56 learning hours.
Each participant will have his or her own working space; access to Wi-Fi and the library, printer and plotter; a resting area in the garden; and access to a small kitchen.
The booking fee includes all practical materials, an instructional publication and pick-up service from Santander. Accommodation in the surroundings of the workshop can also be provided upon request. The course is recognised by the Polytechnic Architecture University of Madrid as part of the University Programme, and students are granted 2 ECTS (European Credit Transfer and Accumulation System) upon completion.
The course is taught across a series of short exercises combining theory and practice, through which students are challenged to solve a given brief by means of making. Varying in scale and duration, the exercises will be conducted through direct experimentation and manufacturing, and will include techniques such as embossing, etching, carving, moulding, and casting, making the students aware of the production time and process.
*All our workshops are adapted to comply with Covid-19 measures, including smaller and more exclusive groups, mandatory use of mask and face shields, social distancing and regularly disinfection of tools and materials.